IHF Diary
IHF Management & Council Meeting

24/01/2018 -

10:00am

to

4:30pm
log in to view »
Want to feature your Hotel on our site? Click HERE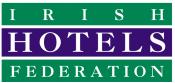 NOMINATIONS SOUGHT FOR CORK'S INAUGURAL HOTEL & GUESTHOUSE EMPLOYEE OF THE YEAR AWARD
Click here to download the form.
Hotels and guesthouses in Cork are being encouraged to put forward their nominations for the county's inaugural hotels sector Employee of the Year award.
Organised by the Cork branch of the Irish Hotels Federation (IHF), the annual award has been established to shine a light on the outstanding contribution individual employees make to Cork's hotels industry and its wider tourism product.
Michael Magner, Chair of the IHF's Cork branch states: "The quality of Cork's hotels and guesthouses is among the best in Ireland and this is largely due to the excellent level of service provided by our employees. We're encouraging hoteliers to recognise this contribution and nominate an employee whose dedication and hard work has stood out over the last year."
The first ever winner will be announced on November 21st at a gala dinner hosted by the Cork Branch of the IHF at the Maryborough Hotel in Douglas. The recipient will act as an ambassador for Cork's tourism industry for the following twelve months.
The closing date for nominations is this Friday, 18th October.
ENDS
For further information, contact:
Michael Magner, IHF Cork Branch
« Back