IHF Diary
IHF Annual Conference & Showtel 2017

27/02/2017 (All day)

to

28/02/2017 (All day)
log in to view »
Want to feature your Hotel on our site? Click HERE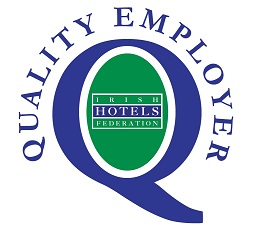 The Irish Hotels Federation
Quality Employer Awards 2017
Celebrating 'Excellence' in Human Resources in Hotels
Entries are now open for the Quality Employer Awards 2017. To download the entry form please click HERE.
The Quality Employer Awards are the perfect opportunity to recognise that your employees are your greatest resource.  
The awards are designed to recognise and celebrate standards of excellence in HR Management and Development in our sector.  
Please click here to see last year's Press Release of the winners and Judging Panel Comments. 
The Awards Ceremony will take place as part of our Annual Conference in the Lyrath Hotel in Kilkenny.
Entry Details:  In order to enter, your premises must be Quality Employer accredited (for details please contact Nuala McLoughlin mcloughlin@ihf.ie or 087 6200785.
Entry Deadline: Friday, 3rd February 2017
Awards will be presented by:
Minister Patrick O'Donovan, T.D. Minister of State for Tourism and Sport 
at the
IHF Annual Conference
Tuesday, 28th 2017
Lyrath Hotel, Kilkenny.
A representative from the property must be available to attend the presentation of awards on the 28th February in the Lyrath Hotel.
Photographs and details of the winners will be shared with national and local media. 
Award Categories:     Small, Medium, Intermediate & Large Hotels
For further information and to download Entry Form, please click here
 
« Back