IHF Diary
Distribution Management Workshop Dublin

30/05/2019 -

10:00am

to

1:00pm
log in to view »
Want to feature your Hotel on our site? Click HERE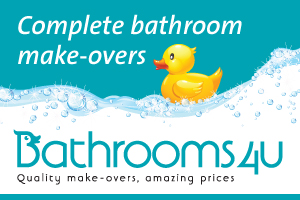 BATHROOMS 4U has gained a reputation second to none when it comes to the design, supply and fit of beautiful bathrooms, wetrooms and shower rooms. This renown is the result of years of experience, attention to detail and a passion for what we do. We're now starting to replicate the success we've enjoyed in the domestic market place in the hospitality and commercial sectors. B4U's quick, clean and efficient commercial renovation process for businesses and other establishments results in the minimum downtime and lost revenue for our clients.
Along with creating bathrooms that are beautiful we also design them with ease of maintenance as a priority, especially where there is a high volume of people. We listen carefully to what the client requires and deliver tailor made solutions.
A successful project recently completed at the Radisson Blu Hotel & Spa in Limerick came in for some high praise from General Manager, Brian Harrington. "The efficiency of having one contractor completing the full job from start to finish was incredible" Brian said. He also added "the quality of the final product was amazing".
Commercial projects by their nature have unique challenges and we use various techniques to deliver bathrooms that are:
• Stylish and hard wearing
• Easy to maintain
• Easy to clean
• Conservative with water use
In both the domestic and commercial sectors water conservation is now a major issue. B4U is constantly up-dating it's knowledge of the latest technologies and practices. We're also developing partnerships with some of Ireland's leading water conservation specialists and this enables us to delivery the best water saving devices and methods to the marketplace. This can mean a possible 70% reduction in water and energy costs for the client.
Here are some examples of the type of water reduction percentages that can be achieved:
• Hotel – 50% (For a 100 bedroom hotel this
can be as much as €50K per year saved on
water and energy costs)
• Average sized office block – 70%
• School – 50%
• Leisure club – 60%
Thank you for taking the time to review our literature and don't hesitate to contact me for more information. I would welcome the opportunity to discuss what has been outlined above further and how our service can be of benefit to your organization.
Contact Details:
Main Contact: Alan O'Sullivan
Tel: 01 906 5804
« Back