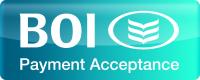 About BOI Payment Acceptance
 
BOI Payment Acceptance (BOIPA) is an alliance between Bank of Ireland and EVO Payments International. It brings together Bank of Ireland's understanding of what Irish businesses need and EVO's expertise in creating payment solutions. Together we have created a competitive and innovative solution that eliminates the prohibitive and complex cost structures associated with non-cash payments. Our pricing models allow you to also accept low-value non-cash payments which is important in an enviroment where every sale counts.
Our aims
•
To make payment acceptance easier
•
To offer clear and transparent solutions
•
To make payment acceptance available and attractive to all businesses
Unique benefits of BOIPA
- Transparent and reasonable pricing, without complexity or hidden fees
- With our pricing models there´s no need to turn down low value card sales
- Improved liquidity – with payout on the next working day for Bank of Ireland bank accounts, and on the day after next for accounts of most other banks
- Terminals for all types of customer interaction – all supporting contactless payments and fully PCI compliant
- Easy to implement and PCI compliant e-commerce solution with software extensions for all relevant shop systems
- A range of valuable additional services, such as accommodating foreign cardholders who wish to pay in their own currency with Dynamic Currency Conversion (DCC), offering your customers to withdraw cash or handle tips via your terminal
Contact information:
Barry Gray,
BOI Payment Acceptance,
Adelphi Plaza,
Upper Georges Street,
Dun Laoghaire,
Co Dublin.
Telephone: 1800 806770