IHF Diary
IHF Annual Conference & Trade Exhibition, Showtel

23/02/2020 - 12:30pm

to

25/02/2020 - 11:30pm
log in to view »
Want to feature your Hotel on our site? Click HERE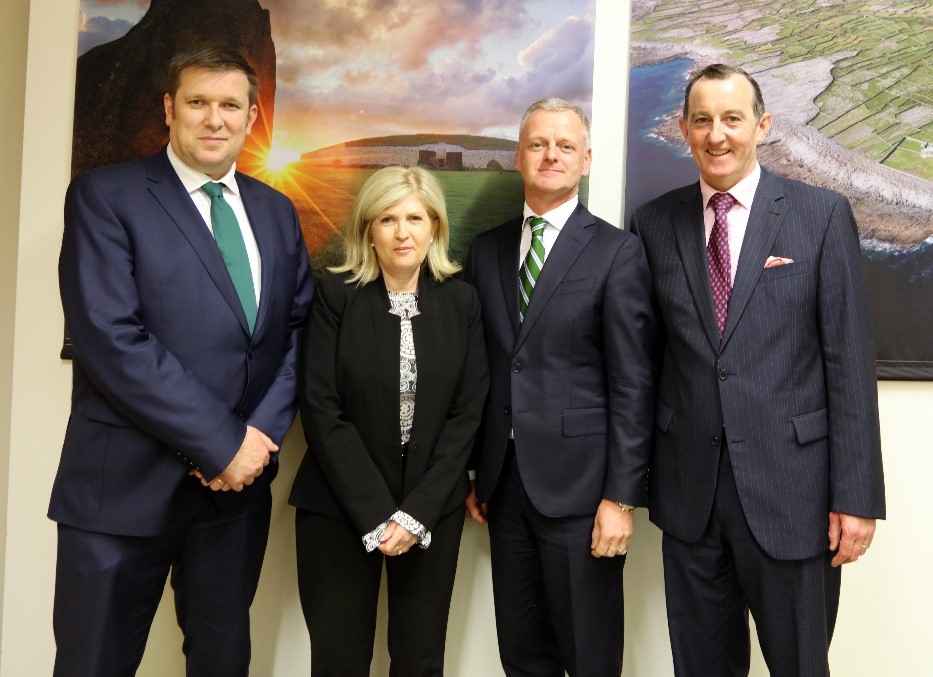 Pictured: Adrian Cummins, RAI; Tina Maree, IHI; Ciarán Ó hAnnracháin, LYIT and Project Lead; Michael Vaughan, IHF and Chair of the Hospitality Oversight Group
A Consortium of Institutes of Technology (IoTs) collaborated on a national application to Springboard to fund ongoing training and education for the Hospitality sector.  These activities are a replacement for the Fáilte Ireland funded programmes of the past number of years.  Given the severe shortage of chefs at all levels, professional front line staff in food and beverage and accommodation, and the need for upskilling and professional development of middle and senior managers, the consortium sought support for their application from the key industry agencies – the Irish Hotels Federation (IHF), the Restaurants Association of Ireland (RAI) and the Irish Hospitality Institute (IHI).
The Consortium, led out by Ciarán Ó hAnnracháin of Letterkenny IT, Killybegs Campus, submitted proposals in Culinary Skills, Food and Beverage Operations and Restaurant Management, while a fourth project in Hotel Management was co-ordinated by Mary Rose Stafford at IT Tralee.  The four programmes will provide funded spaces for over 230 additional participants at operational, supervisory and management education levels.  Programmes will be offered on one or two days per week over an academic year, and will facilitate recruitment of new staff off the live register or of homemakers wishing to return to work, as well as giving opportunities for staff within the industry to engage in college learning to upskill or re-skill.
For more information on courses click here. 
« Back