IHF Diary
IHF Management and Council Meeting

18/04/2018 -

10:00am

to

4:30pm
log in to view »
Want to feature your Hotel on our site? Click HERE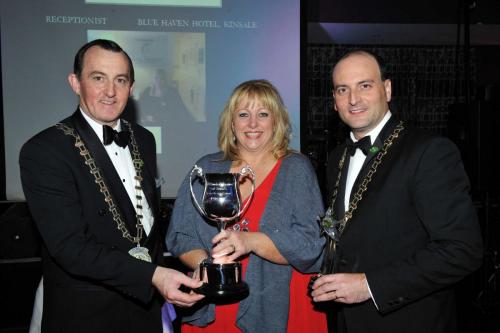 Madeline Wright pictured receiving the Employee of the Year Award with Michael Vaughan, Irish Hotels Federation President and Michael Magner, Chairman of the Irish Hotels Federation Cork Branch.
At the recent Cork Tourism Dinner in the Maryborough Hotel, Madeline Wright was selected as the first 'Cork Employee of the Year by the Cork branch of the Irish Hotels Federation. Madeline is now embarking on a 12 month period as an Ambassador for Cork hotels.
Madeline, a  receptionist at the Blue Haven Hotel in Kinsale was chosen from a shortlist of three candidates. She was described as 'the perfect ambassador for our industry' by the chairman of the Cork Branch of the Irish Hotels Federation, Michael Magner.
Hotels and guesthouses in Cork were encouraged to put forward their nominations for the inaugural hotels sector Employee of the Year award. The award has been established to shine a light on the contribution individual employees make to Cork's hotel and guesthouse sector.
Michael Magner said: "Madeline is a great choice as winner of our first employee of the year award. Her professionalism, her desire to look after everyone who she meets while at work, her charm and friendliness, make her the perfect ambassador for us. We want to highlight that our industry is alive and well and in recovery and we know Madeline will help spread the word while also delivering the message that the hospitality sector is a great place to work".
The sold-out event was a huge success with more than 300 attending the gala dinner at the Marybrough Hotel, more than €11,000 was raised for branch, promotional and marketing activities in 2014.
Click here
to read the article about Madeline in the Evening Echo. 
« Back