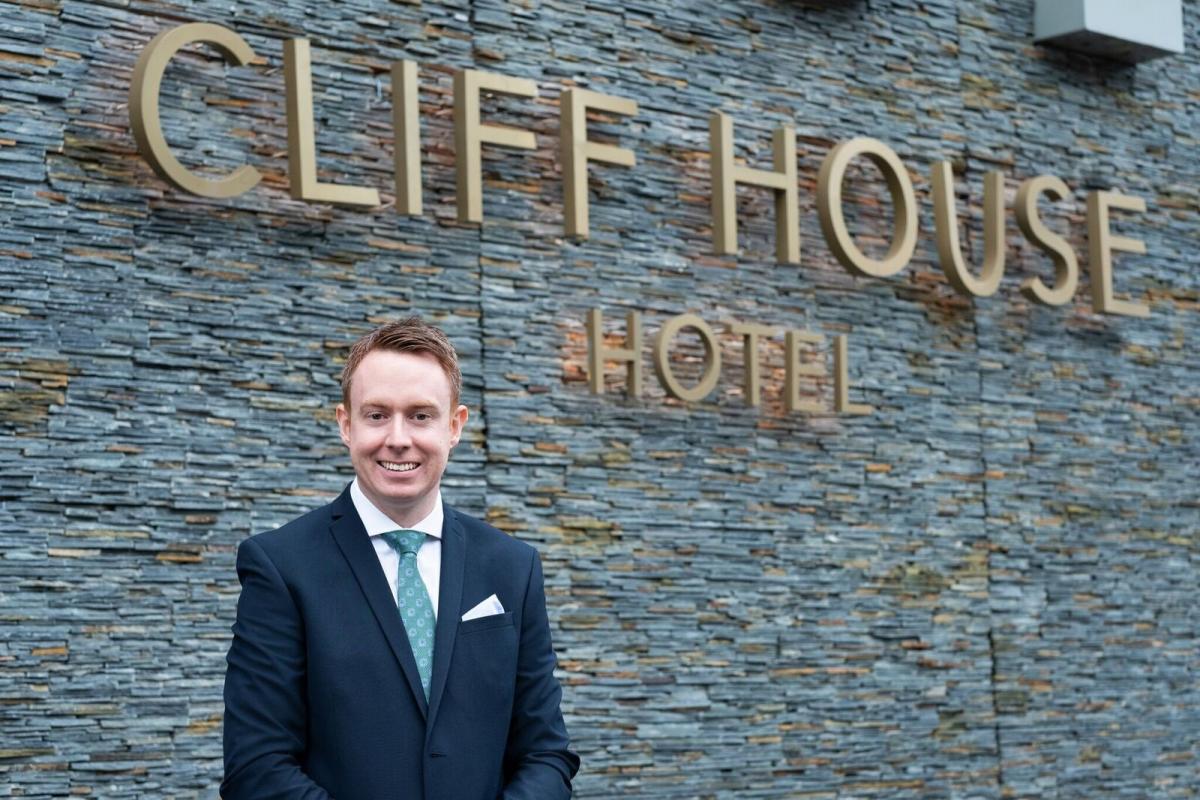 Patrick Shields appointed as General Manager of Cliff House Hotel, Ardmore
CLIFF are delighted to welcome Patrick Shields as the new General Manager of the five star Cliff House Hotel in Ardmore, County Waterford. Cork native Patrick has returned from Canada, where he was working with Northland Properties as General Manager of the five star Sutton Place Hotels since summer 2017, to take up the post at Cliff House Hotel.
Prior to working in Canada, Patrick worked with the Talbot Collection as General Manager of the Midleton Park Hotel from February 2014 until July 2017, and prior to that he held senior roles in various Cork hotels. Patrick graduated from Cork Institute of Technology in June 2004 with a Diploma in Business Studies, Hotel & Catering Management. He was bitten by the hospitality industry bug on an internship in Ocean City in U.S.A. which he enjoyed so much, he stayed for a year and a half. After this, he returned to Ireland to gain a BA Honours Degree in Hospitality Management in the Waterford Institute of Technology.
Patrick's career has brought him to many interesting places around the world including Australia, and most recently Canada: "As General Manager of The Sutton Place Hotel at Revelstoke Mountain Resort I was fortunate to be part of a team that welcomed Prime Minister Justin Trudeau and his family, as well as many wonderful guests and colleagues from all over the world. It is true what they say about Canadian people, they are welcoming, warm, friendly and helpful and that was an asset to me as a newcomer to the country. Cliff House Hotel has an exceptional team and I have been very fortunate to be part of other great teams over the years which have possessed a real drive for consistently delivering excellent guest service."
Open since 2008, Patrick will enjoy one of the best views in the country in Cliff House Hotel, which is innovatively designed to take advantage of its location. A member of Relais & Châteaux, the intimate 5-star hideaway is carved into a cliff in West Waterford, set against the backdrop of the striking coastline. The hotel has a 'wet' spa, The Well by the Sea, which has a view-wrapped pool, outside baths and a hot tub overlooking Ardmore Bay on the country's south coast and is known for its superb food. The House Restaurant has held a Michelin star for the innovative cooking of Martijn Kajuiter and his team for ten years.
In his spare time, Patrick enjoys keeping fit, so locals and hotel guests might meet him on the CLIFF walk. Patrick recently celebrated his second wedding anniversary to his wife Natalia. He is looking forward to the challenge of running the five star hideaway: "CLIFF have a reputation for innovation and excellence in hospitality and I'm delighted to have the opportunity to be part of this exciting group. I'm looking forward to getting to know our regular guests, welcoming new guests, and building on the success created by the fantastic team here."