IHF Diary
IHF Webinar - EWSS & TWSS, Restart Grants & other Financial Measures

07/08/2020 -

11:00am

to

12:00pm
log in to view »
Want to feature your Hotel on our site? Click HERE
 Overseas tourism will deliver €12.6 billion for economy, 2014-2016 
Tourism Ireland launched details of its marketing plans to promote the island of Ireland overseas in 2014 and beyond, at an event attended by Tourism Minister Leo Varadkar and tourism industry leaders from around Ireland on December 2nd. The organisation aims to build on this year's growth in overseas tourism and to welcome 25.6 million visitors to the island over the coming three years – contributing some €12.6 billion to the economies, north and south.
Building on recent successes and sustaining growth into the future is at the heart of this ambitious three-year journey. The plans will see Tourism Ireland prioritise those markets that offer the best return on investment, in terms of holiday visitors and revenue i.e. North America and Mainland Europe. Ireland's 'best prospect' visitors will be targeted more closely – with distinctive holiday experiences, events and special offers tailored to their interests and designed to trigger their 'must go now' impulses. Tourism Ireland will get them talking about Ireland among their colleagues and friends and then sharing those conversations online – by harnessing the growing power of social media, as well as the most effective digital and traditional channels, to deliver regular 'new news' about Ireland. 
2014 looks set to be another exciting year for tourism, with major events like Limerick City of Culture, the 'Grande Partenza' or 'Big Start' of the Giro d'Italia, as well as the Croke Park Classic, when the University of Central Florida takes on Penn State in their college football season opener. Promoting the Wild Atlantic Way, Ireland's first long-distance touring route stretching all the way from the Inishowen Peninsula in Co Donegal to Kinsale in Co Cork, will be a major focus of Tourism Ireland's activity around the globe in 2014. 
Speaking at the launch, Minister for Transport, Tourism and Sport, Leo Varadkar, said: "Our tourism industry is firmly on the right track and growing again. There has been a +16% increase in overseas visits since the change in government. Helped by The Gathering this year, we have seen record visitor numbers from North America, and a +26% increase in air capacity from the US and Canada. Key Government measures like the 9% VAT tourism rate and the suspended air travel tax will help us to build on this over the next three years. Next year, we have new initiatives like the Wild Atlantic Way; and we will host the Giro d'Italia cycle race and the biggest American college football game ever held in Ireland. 2014 promises to be a lot of fun, and we can look forward to welcoming more people from around the world."
2013 performance
Latest estimates indicate that, by year end, 8 million people will have visited the island of Ireland in 2013, representing a +7.2% increase over 2012, with growth recorded from all market areas. Revenue generated by international visitors is expected to be approximately €3.64 billion, a +6% increase over last year. Niall Gibbons, CEO of Tourism Ireland, said: "2013 is set to be a record year for visitor numbers from North America, Germany, France and Spain, as well as from our long-haul markets – with Australia and New Zealand in particular driving that growth. This year, we rolled out our 'GB – Path to Growth' strategy, targeting new audiences in Britain; so the return to growth in British visitor numbers is also good news. The major focus of Tourism Ireland's promotions throughout the year has been the Gathering Ireland, the biggest and most ambitious tourism-led event ever held in Ireland. Tourism Ireland undertook a packed programme of promotions right throughout the year, to highlight the Gathering to the 70 million people across the world who feel linked by family, friends or otherwise with Ireland."
2014 and beyond
Tourism Ireland's targets for 2014-16 will see the island of Ireland welcome 8.9 million visitors per year by 2016, representing growth of +12% over 2013. This will include almost 4.3 million holidaymakers (+15% over 2013). Commenting on the year ahead, Niall Gibbons said: "Next year, we will place a major focus on highlighting the Wild Atlantic Way. We believe this exciting new tourism experience – showcasing the spectacular scenery and unique culture of the west coast – will have tremendous appeal in our markets around the world. We will promote key events, including Limerick City of Culture, the 'Grande Partenza' of the Giro d'Italia and the Croke Park Classic, encouraging prospective travellers to 'book now'. We will also capitalise on important access developments – maximising the promotion of new, as well as existing, flights and sailings to continue to grow overseas tourism to Ireland." 
Access developments for next year include new Aer Lingus flights from San Francisco, Toronto, Mainland Europe and Great Britain; new Irish Ferries sailings from Holyhead and Cherbourg; Ryanair's expansion from Mainland Europe and Britain; as well as other new air routes like Westjet's flight from Newfoundland in Canada.
In 2014, Tourism Ireland will continue to leverage its strength in digital and social media. The organisation is now the second most popular tourism board in the world (after Australia) on Facebook, with over 1.9 million fans around the world; and the number one tourism board on YouTube. Emerging markets of high potential will also be targeted, including the BRIC (Brazil, Russia, India and China) countries. Tourism Ireland will have representation in Brazil and Russia for the first time ever in 2014.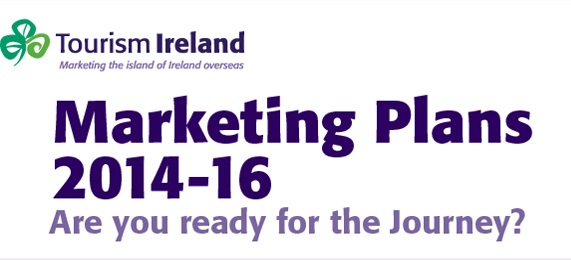 « Back