IHF Diary
July Management & Council Meetings

22/07/2020 -

10:00am

to

4:30pm
log in to view »
Want to feature your Hotel on our site? Click HERE
Radio Kerry announce their overall Tourism and Hospitality winner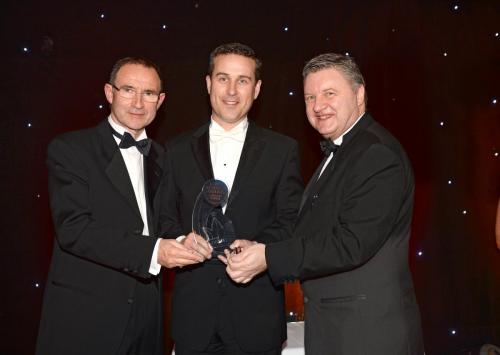 Tralee Hotel Ballygarry House Hotel and Spa has been announced as the 2014 Radio Kerry Tourism and Hospitality winner.
The inaugural gala awards, which was attended by 350 people, was the culmination of a 12 month initiative by Radio Kerry to recognise excellence in Kerry Business.  There were 72 monthly winners across six categories representing a diverse range of business interests from across Kerry. An independent judging panel had the task of choosing the final six winners.
Guest speaker, Republic of Ireland soccer manager Martin O'Neill praised the business people of Kerry for surviving and thriving in the tough world of business.
This award joins a long list of accolades for Ballygarry House such as TripAdvisor Travellers Choice top 10 hotel in Ireland, Weddingdates four star wedding venue of the year, as well as an IASI Supreme award for excellence.
Speaking today Padraig McGillicuddy Proprietor of Ballygarry House said 'Our team are testament to the tourism and hostility sector with their dedication to service standards and practice. I am delighted that we as a team have achieved this award, particularly as this is such a competitive sector here in Kerry'. 
Customer Service Winner 
Brooks restaurant at Ballygarry house have added another accolade to their list having scooped the Best Customer Service award at the Restaurant Association of Ireland awards for the second year in a row.
Tadhg McGillicuddy Hotel Assistant manager praised his team for their customer focused attitude and love of the service industry.
'Our team work extremely well together and I am very proud of their achievements. They firmly believe in the hospitality sector and the importance of being ambassadors for the food industry. To receive this award for the 2nd year in a row shows their consistent attitude to providing the very best in customer experience.'
Brooks restaurant reputation goes from strength to strength and is placed as one of the finest places to eat in Kerry. It is placed as the number 1 restaurant in Tralee on Trip advisor and Ballygarry House Hotel itself holds the number 1 hotel in Tralee and top 10 hotel in Ireland on the world famous review site.
Visit www.ballygarryhouse.com or call 0667123322
« Back