CIE TOURS INTERNATIONAL AWARDS OF EXCELLENCE
Congratulations to all our members who won awards at the CIE Tours International Awards of Excellence. 



OVERALL CATEGORY WINNERS – GOLD AWARDS 
Best 5 star hotel
Killarney Park Hotel, Kerry 
Best 4 star hotel
Ashling Hotel, Dublin
Best 3 star hotel
International Hotel Killarney
Best Hotel Accommodation
Conrad Hotel Dublin
Best Hotel Service and Hospitality
Granville Hotel, Waterford
Special Dinner Feature
Killeen House Hotel, Killarney, Co Kerry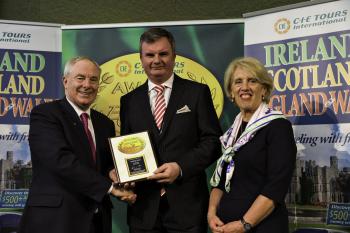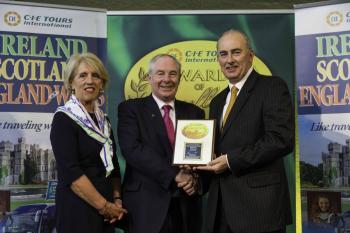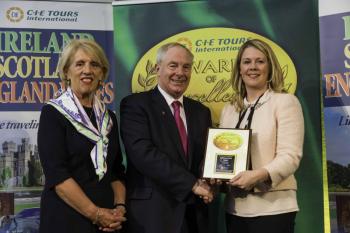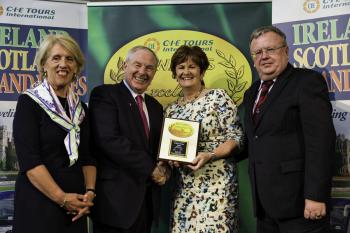 Silver Merit Award Winners :
Radisson Blu Royal Hotel, Westbury Hotel , Radisson Blu St. Helen's Hotel , Croke Park Hotel , Glasson Country House Hotel, The Shelbourne, Fitzpatrick Castle Hotel , Bewleys Hotel Ballsbridge, Clontarf Castle Hotel, Davenport Hotel, Alexander Hotel , Clyde Court Hotel, Grand Canal Hotel , Royal Marine Hotel, Maldron Hotel Cardiff Lane, Dromoland Castle, River Lee Hotel , The Brehon, Killarney Plaza Hotel, Benners Hotel , Killarney Avenue Hotel , The Malton, Old Ground Hotel , Kilronan Castle, Hotel Meyrick, Ashford Castle, Cong, Radisson Blu Hotel, Clew Bay Hotel, Hotel Westport, Knockranny House Hotel and Harvey's Point Hotel.
CIE PRESS RELEASE:
CIE Tours International 24th Annual Awards of Excellence 
80 Winners Nationwide Receive Award Based on Feedback
Business up 20% during 2013
The Gathering brought an additional 4,500 visitors spending €7 million
Reduced VAT rate boost competiveness
 
At a reception in Dublin Castle on Tuesday 28th January, Minister of State for Tourism and Sport, Mr Michael Ring TD presented plaques to 80 winners at the 24th CIE Tours International Awards of Excellence. Over the last 82 years CIE Tours International has brought over three million visitors to Ireland. 
 
12 overall category winners from around the country were chosen according to feedback from 28,000 customers on more than 450 providers of accommodation, dining, tours and attractions.  Merit awards were presented to those achieving over 90% in the surveys.
 
Mr Brian Stack, Managing Director of CIE Tours International, said: "2013 was another successful year with business up 20%.  We booked in the region of 400,000 bed nights in towns and cities across Ireland last year. Our success is due to the efforts of thousands people up and down the country who are focused on providing excellent service.
 
Several factors came together to create this rising tide: the retention of the lower VAT rate, significant increases in air access and the Tourism Ireland's strong promotion of Ireland, making it a 'hot' destination thanks to The Gathering.
 
"We believe we can attribute half of our growth last year to The Gathering.  Our estimates indicate that it alone brought in around 4,500 additional visitors on our tours, which generated revenue in the regional of seven million euros," he said.
 
Minister of State for Tourism & Sport Michael Ring noted "It's great to hear confirmation from CIE Tours International of the part played by Government initiatives, particularly The Gathering, in boosting their business. I am confident that the continued retention of the reduced VAT rate and the reduction of the travel tax to Nil will produce further growth this year."
 
Mr Stack continued "Bookings are up 20% on this time last year and with confidence booming in our largest market; further increases in air connectivity and another major American Football game in autumn, we are cautiously optimistic that 2014 will surpass 2013."
"Increased air access from the West coast of America, Canada and through major global hubs in the middle east will continue to attract visitors from Australia and Canada, two markets in which we are making significant investments to boost the CIE Tours International brand. To meet increased demand we have hired 15 new staff in Ireland and the USA since 2012.
In response, Minister Ring said "Air access capacity figures are very encouraging for this year. Capacity from the USA will be up 10.2%. This is on top of the 25% increase in 2013 and just surpasses the air access peak of 2007.  Canadian access will be up 71% this summer and Emirates decision to double their capacity from September will be beneficial in our long haul markets."
 
Turning to the tourism offering available to visitors, Mr Stack said "As one of the largest purchasers of tourism services across the country, we monitor all feedback to ensure our customers enjoy their visit and get value-for-money.  We brought 30,000 visitors to the Cliffs of Moher, 17,000 to Bunratty, 20,000 to the Guinness Storehouse and 13,000 to the Titanic exhibition in Belfast.  This volume of visitors enables us to give valuable feedback to the tourism industry and ensures all tourists visiting Ireland have a top quality experience. 
"Our size means we can negotiate excellent value-for-money packages for customers, who would be unable to travel independently as cheaply.  Our customers like the security of our all-inclusive prices as it helps them budget for their trips, combined with the quality of the experience they get.
"Significant investment by Fáilte Ireland in a number of regions including: Westport, Waterford, Athlone, Limerick, Westport, Kilkenny and Drogheda has resulted in us increasing the footprint of our tours to areas not visited by other operators. 
 
"We have received very positive feedback from clients on new attractions such as the Viking Triangle in Waterford, Athlone Castle and the unique historical and architectural elements of Drogheda town.  The development of the Wild Atlantic Way provides our teams with a great way to sell fly-drive packages to our independent travellers," he said.
 
During 2013 CIE Tours International received a number of industry awards including Travel Weekly's Silver Magellan Award for Tours Operators Trade Website; Scotland's Heritage Tour Operator of the Year Award 2012/2013 and two of  Travel Age West's Wave Awards where the company won Editors' pick for 'Best Tour Operator Europe' and 'Most Knowledgeable Reservation Staff'.