IHF Diary
July Management & Council Meetings

22/07/2020 -

10:00am

to

4:30pm
log in to view »
Want to feature your Hotel on our site? Click HERE
Cooking up a Storm - Doyle Collection Chefs Unite to Hone Their Skills for Charity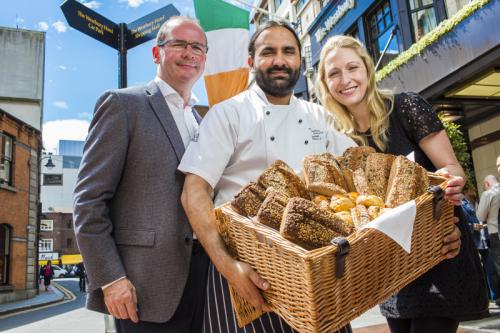 ~The Doyle Collection holds inaugural Chefs' Forum at The Westbury Hotel ~
Today, the Executive Chef team from The Doyle Collection's eight hotels in Ireland, the UK and the US came together for the inaugural Chefs' Forum at The Westbury Hotel. 
The team gathered together to share their knowledge, expertise and enthusiasm relating to all things culinary. Part of the day involved a baking workshop where the Executive Chefs combined their talents, shared their Doyle Collection signature dishes and recipes and served up some delicious cakes, breads and pastries including a mouth-watering Guinness brown bread, fluffy afternoon tea scones and lemon rosemary drizzle cake all of which were donated to Focus Ireland after the event.
With Executive Chefs from London, Washington DC and Bristol flying in, as well as those from The Doyle Collection's Dublin and Cork  hotels, the gathering provided  the perfect opportunity for the culinary team to share their ideas, recipes and the latest food trends from their respective areas. 
The Forum was organised as part of The Doyle Collection's on-going multi-million investment in all its food and beverage outlets across Ireland, the UK and the USA.
Pat King, CEO of The Doyle Collection commented at the forum today: "This inaugural Chefs' Forum is the ideal opportunity for our hugely talented chefs to come together, collaborate, share knowledge and develop their skills even further. At The Doyle Collection, we are committed to helping our employees grow and develop in each hotel and as a wider family. Food plays a central role in The Doyle Collection experience. All of our hotels are located in prime city locations and while they each have their own individual style and design, we see food as a common thread which identifies them as part of The Doyle Collection.  We are also delighted to be able to continue to support the great work of Focus Ireland through this event."
The baked treats were donated to Focus Ireland's coffee Shop in Temple Bar. Open every day, this service provides quality, affordable meals for homeless adults, families and children in a safe and warm environment. In 2013 Focus Ireland's coffee Shop served over 70,000 hot meals. To learn more about the work that Focus Ireland does, please visit
www.focusireland.ie 
Photos Keith Arkins
« Back