Wednesday, 5th June 2013 - Dromoland Castle, Ireland's award-winning premier luxury resort in Newmarket-on-Fergus, County Clare celebrated its 50th year as a hotel on Friday, 17th May with a Gala Dinner and the launch of the 'Dromoland Castle Cookbook' , which has been specially produced as part of the 50 year celebrations.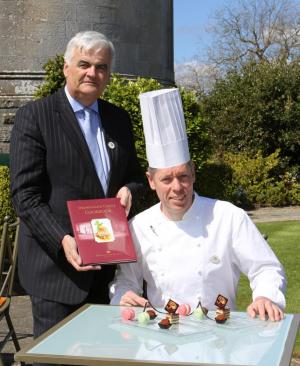 Mark Nolan and David McCann pictured at the launch of the Dromoland Castle Cookbook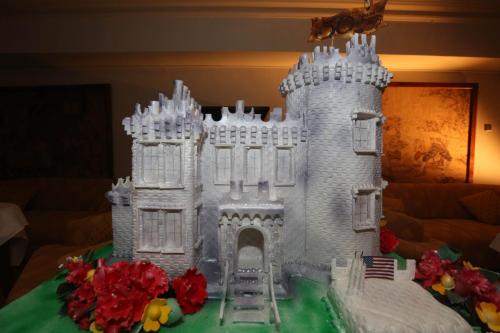 The 50th anniversary cake specially produced by the chefs at Dromoland Castle for the Dromoland Castle Gala Dinner on 17th May 2013. 
The 5-star Dromoland Castle has seen many distinguished guests come through its doors over the last 50 years, including President Bill Clinton and First Lady Hillary Clinton, President George W. Bush and First Lady Laura Bush, President Nelson Mandela, Chinese President Xi Jingping, the Beatles, Mohammad Ali and Colin Farrell.  The Castle is also delighted to host many local, national and overseas guests twelve months of the year - for afternoon tea, lunch, dinner, golf, spa treatments, falconry, birthdays, anniversaries, weddings and christenings!
The special Dromoland Castle Cookbook contains more than 100 recipes hand-picked by Executive Head Chef, David McCann, who has been leading the kitchens in Dromoland since 1995.  
Commenting on the 50th Anniversary, Mr. Gavin O'Reilly, Chairman, said:
"Dromoland Castle has a rich and vibrant history and has maintained its position as a leading player in the Irish and international hotel landscape into the 21st century. 50 years in business is a significant feat in any business, but particularly so in the turbulent hotel industry. Dromoland Castle is proud to have been at the heart of Ireland's tourism industry for half a century and to have been such a major employer in the Shannon region for so many years."
Mr. Mark Nolan, Managing Director, said:
"We are extremely proud to have reached the milestone of Dromoland Castle's 50th anniversary in hospitality. Over the years 5-star world-renowned Dromoland Castle has had the honour of hosting many distinguished guests and famous celebrities but our most valued assets are our longtime guests, investors and supporters, without whose continued support Dromoland Castle would not be what it is today. It has been an eventful 50 years at Dromoland Castle. We can't wait to show you what the next 50 has in store."
Pictures below: The Beatles at Dromoland