IHF Diary
IHF Management and Council Meeting

25/07/2018 -

10:00am

to

4:30pm
log in to view »
Want to feature your Hotel on our site? Click HERE
Dromoland Castle celebrates 50 years as a Hotel
Launch of "Nostalgic Tasting Menu" from c.1963
Dromoland Castle, Ireland's award-winning premier luxury resort in Newmarket-on-Fergus, County Clare, continues its 50th year celebrations as a hotel with the launch of the "Nostalgic Tasting Menu" from circa 1963.
As part of the 50th Birthday Celebrations at Dromoland Castle, an eight course "Nostalgic Tasting Menu" accompanied by fine wine pairings has been specially created by Executive Chef, David McCann & Restaurant Manager, Tony Frisby. David has been leading the Kitchens in Dromoland since 1995. David's style is based on a firm classical base, acquired from David's training in some of London's top establishments. 
Speaking at the launch of the 50th Celebration "Nostalgic Tasting Menu" David McCann said:
"This nostalgic tasting menu project has been so much fun especially with my classical background and Tony's experience. In 1963 some of the ingredients were not available in Ireland and were substituted to keep up with food fashions of that time. It's nice to look back and reflect, we have just gone a step further, I do hope you can enjoy our interpretation of Dromoland's 1963 menu fare"
The Menu was extensively researched by the team at Dromoland Castle which included searching through the menu archives of the hotel from the mid 1960's. Whilst culinary fads have come and gone over the years, the style of cooking at 5 star level in 1963 was firmly classical but with modern influences starting to appear. This was the result of Paul Bocuse being honoured in 1961 with the title of "Meilleur Ouvrier de France" or first Ambassador of Modern French Cuisine.
The 5-star Dromoland Castle has seen many distinguished guests come through its doors over the last 50 years, including President Bill Clinton and First Lady Hillary Clinton, President George W. Bush and First Lady Laura Bush, President Nelson Mandela, Chinese President Xi Jingping, The Beatles, Mohammad Ali and Colin Farrell.  The Castle is also delighted to hosts many local, national and overseas guests twelve months of the year – for afternoon tea, lunch, dinner, conferences, golf, spa treatments, falconry, birthdays, anniversaries, weddings and christenings!
Commenting on the 50 year "Nostalgic Tasting Menu", Mr Mark Nolan, Managing Director of Dromoland Castle, said:
"We have had a wonderful year in celebrating our 50th anniversary as a hotel marked with very special events.  However, the 50th Nostalgic Menu will be our highlight as it embraces the best of Dromoland, transcends and acknowledges in a very meaningful way the five decades that we have had the pleasure of serving you the customer."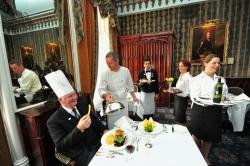 Executive Chef David McCann and Restaurant Manager Tony Frisby
at the launch of the "Nostalgic Menu" c.1963
« Back