IHF Diary
July Management & Council Meetings

22/07/2020 -

10:00am

to

4:30pm
log in to view »
Want to feature your Hotel on our site? Click HERE

EASTER BANK HOLIDAY WEEKEND, Thurs 17 - Mon 21 April 2014 
The 3rd Galway Food Festival will take place from the 17 – 21 April throughout Galway city and its environs during the Easter Bank Holiday Weekend. The 5-day family-friendly Festival will celebrate Galway as a good food destination, food traditions with a strong Galway, West Coast and Wild Atlantic Way flavour.
Over 100 restaurants, food outlets and food producers will participate and more than 70 individual events. Savour an array of in-house retail events, Taste-Trails, Cookery Demonstrations, Food Talks and Debates, Lunchtime Comedy Gigs, and 4 open-air markets - the Festival Village at Spanish Arch, Woodquay Country Market, Galway Market and the Moycullen Market.
Mouth-watering and family-friendly events will feature, a Paleo Dinner Party cooked by the owners of Sauvage in Berlin, Food and Science for Kids, Pick Up a Pincho, Twin Baby Water Buffalos, Wine Tasting, The Twelve Apostles Dinner, The Farmers Larder with award-winning chef Brian Fantoni, Teddy Bears Picnic, Galway Slow Food, Chocolate Afternoon Tea, Marche In The Market – A Galway Food Tour, Bearna Lobster Celebration, Celebrating the best of the West Coast, and cookery demos Un Oeuf Is Enough and Raw Bites and Vegan Delights.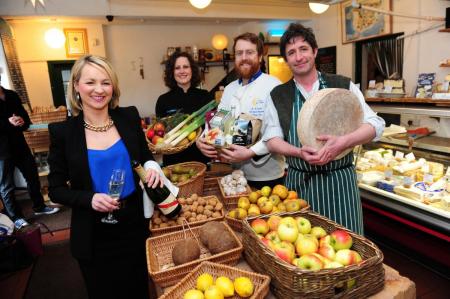 « Back