HOTEL BOOKINGS PLUNGE TO ALL-TIME LOW
Hoteliers call for urgent budgetary supports to save jobs
Over 3 million bednight bookings lost to the end of the year due to Covid-19 restrictions
Many hotels desperately trying to stay open and survive
100,000 jobs gone already and another 100,000 now at risk without immediate Government supports
The latest industry survey* from the Irish Hotels Federation (IHF) reveals that hotel bookings have plunged to an all-time low following the Government's escalation of its Covid-19 restrictions earlier this week. With guests required to limit their movements to their own counties and continued uncertainty over additional restrictions, almost 3.3 million bednight bookings have been lost from October to December, compared to the same time last year.  IHF Chief Executive Tim Fenn says it is 'make or break time' for Ireland's tourism and hospitality industry. Hoteliers are calling for emergency intervention by the Government in the form of immediate additional supports.
"Ireland's hugely successful tourism sector, which supported 270,000 livelihoods pre-Covid, one in ten of all Irish jobs, has been brought to its knees as a direct consequence of additional Government restrictions. Over 100,000 jobs have been lost so far with a further 100,000 at imminent risk as many hotels struggle to stay open in the face of enormous uncertainty for the remainder of the year.  In the coming weeks, they will have to decide whether or not to close.  
"This must be recognised by the Government in the upcoming Budget. Existing supports for the tourism industry are wholly inadequate given the current restrictions.  Urgent and unprecedented intervention by the Government is essential to support tourism and safeguard the thousands of jobs that are at risk.  Sector specific measures are required as a matter of urgency including enhanced employment subsidies, a reduction in tourism VAT, extended waiver of local authority rates and greater access to banking finance."
"What seems to be lost in the discussion around the impact of the pandemic on Ireland's economy is that tourism and hospitality is one of Ireland's leading export industries. Tourism and hospitality jobs matter – not just to the people working within the industry but also to the wider economy.  Hotels and guesthouses provide local employment opportunities, they buy local services, source locally produced food and provide a vital infrastructure in support of local business and communities. Failure to support the tourism sector could have far-reaching social and economic implications that could take decades to recover.
The IHF survey was carried out on Wednesday 8th October and the results are based on the response of 301 properties with 29,700 guest room capacity spread across the country.
Hotel room occupancy rates across the country are at 17% for October and 10% for November and 10% for December based on business currently booked.
Breakdown of occupancy results for October / November  / December 2020:
National room occupancy: 17% Oct / 10% Nov / 10% Dec
Dublin City and County: 13% Oct / 7% Nov / 8% Dec
Border region: 17% Oct / 15% Nov / 14% Dec
Mid-West: 15% Oct / 11% Nov / 10% Dec
Midlands / Mid East: 19% Oct / 10% Nov / 9% Dec
South East: 22% Oct / 16% Nov / 16% Dec
South West: 19% Oct / 9% Nov / 9% Dec
West: 21% Oct / 14% Nov / 13%
**see note below for description of regions
Mr Fenn said: "Public health must always be the number one priority, but this goes hand in hand with ensuring a viable economy when this pandemic has passed. Time and again tourism has been a proven engine of recovery for the economy and ensuring regional balance. It can be again but this requires the introduction of sector specific measures to support businesses, allowing them to survive until the industry recovers."
Urgent Government measures required to safeguard Irish tourism:
Employment Wage Subsidy Scheme (EWSS) – if jobs are to be retained, the EWSS rates of support must be increased to the previous TWSS levels of €350/€410 per week for businesses that can demonstrate a 50% reduction in turnover for a 12-month period to 31 March 2021. The Period for calculating the existing 30% reduction should also be extended on a similar basis. This would make it possible for employers to retain staff during the difficult winter/spring months ahead and to facilitate training and upskilling structures designed to allow employees get personal benefit from this challenging period and to help the industry prepare for post Covid-19 recovery opportunities. Payments should be made on a weekly basis to assist with cashflow. The scheme should be continued until the impact of Covid-19 restrictions has fully abated.
Reduction in tourism VAT to 9% – permanent restoration to 9% to assist recovery and secure a viable and sustainable future for tourism. Reducing VAT will not only provide a stimulus in the Irish economy but also improve our competitiveness as an international tourism destination. VAT on Irish Hotels is currently the second highest in Europe and higher than 30 European Countries.
Liquidity Measures - Additional liquidity measures are required to help fund hotels during the coming months as a result of the cash flow lost out due to Covid-19 restrictions, including extension of the moratorium on bank term loans from 6 months to 12 months.
Local Authority Rates Waiver - The waiver period should be extended for tourism businesses to coincide with business interruption due to Covid-19 and for a minimum of 12 months. After that, payment of local authority rates should be based on reduced levels of activity due to the crisis and until the industry has recovered.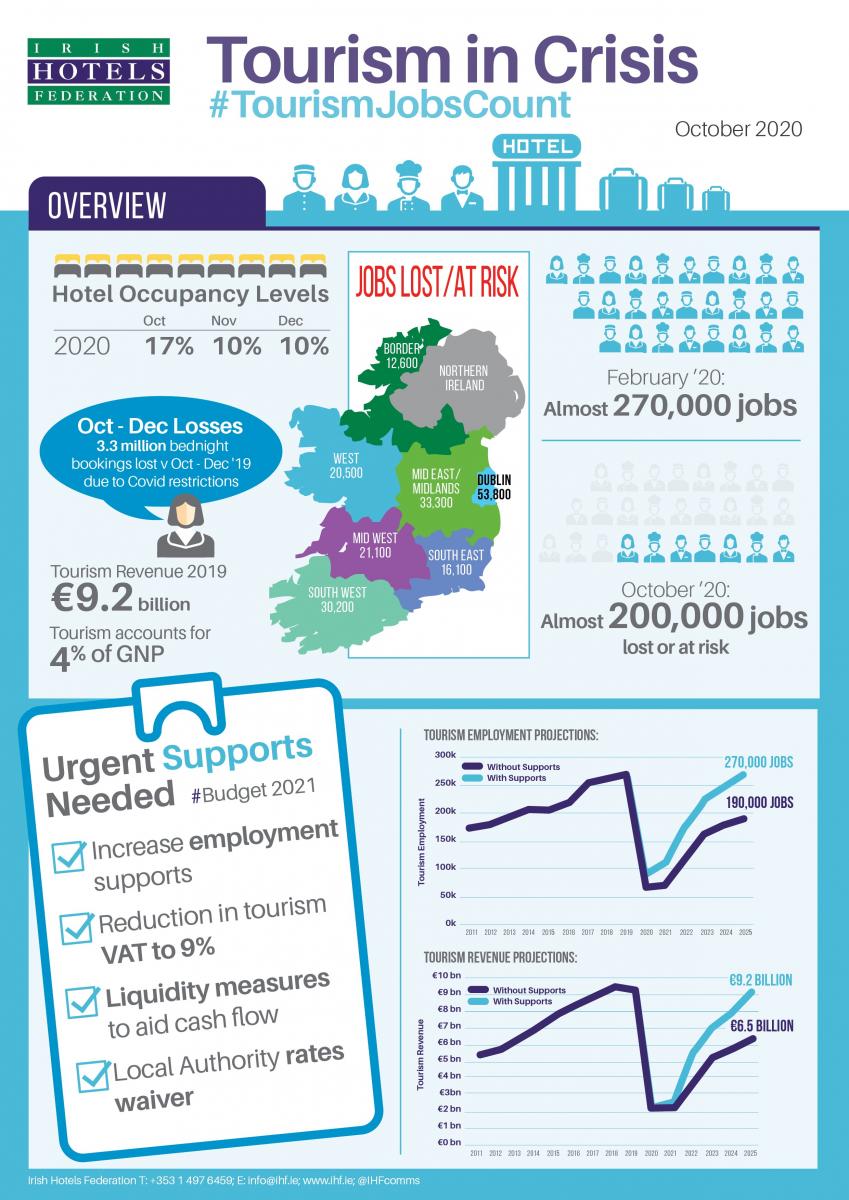 - ENDS –
FOR INFORMATION:
Seán Lawless /Ger McCarthy                                    
Weber Shandwick                                                        Mobile:  085 11 676 40 / 086 233 3590
Notes to Editor:
* The survey was carried out on Wednesday 8th October and the results are based on the response of 301 properties with 29,700 guest room capacity spread across the country.
Tourism sector at a glance / Pre-Covid figures for 2019
10.9 million out of state visitors
Tourism accounts for almost 4% of GNP
Total tourism revenue of €9.2 billion in 2019
Tourism industry created over 90,000 new jobs since 2011. Before the COVID-19 crisis it supported over 260,000 jobs, equivalent to 11% of total employment in Ireland with over 60,000 of these jobs in the hotel sector alone.
€7.25 billion in foreign exchange earnings
€1.96 billion in domestic tourism revenue in 2019
Total of 62,897 hotel and guesthouse bedrooms in Ireland (2019)
**Regions:
Border region: Donegal, Sligo, Leitrim, Cavan, Monaghan
Mid-West: Clare, Limerick, Tipperary
Midlands / Mid East: Kildare, Laois, Longford, Louth, Meath, Offaly, Westmeath, Wicklow
South East: Carlow, Kilkenny, Waterford, Wexford
South West: Cork, Kerry
West: Galway, Mayo, Roscommon