IHF Diary
July Management & Council Meetings

22/07/2020 -

10:00am

to

4:30pm
log in to view »
Want to feature your Hotel on our site? Click HERE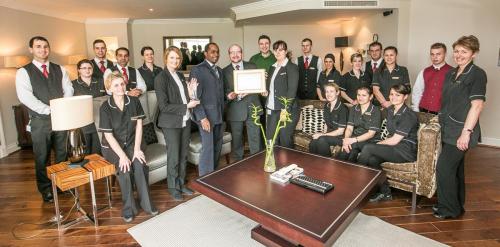 Impeccably excellent and perfectly pristine! Lyrath Estate Hotel wins Irish Accommodation Services Institute Award for the 7th year in a row
Lyrath Estate Hotel is delighted to have been once again awarded a 5 Star Gold Award and to also be a Supreme Award Winner, as awarded by the national body representing the professional interests of the accommodation industry throughout Ireland, the Irish Accommodation Services Institute.
The IASI was founded in 1985 and its remit is to promote best practice standards across the accommodation field.
Under the watchful eye of Murali Dharan, the Executive Housekeeper, Lyrath Estate has been consistently lauded by the IASI, winning 5 Star Gold Awards every year since 2007, and Supreme Awards in 2009, 2011 and 2013.
Known for his exacting standards and his exceptional and rigorous attention to detail, the Executive Housekeeper Murali Dharan has worked at Lyrath Estate Hotel since 2006. Initially he joined as Deputy Accommodation Manager, working his way up to Group Executive Housekeeper by December 2010, responsible for Lyrath Estate Hotel and the River Court Hotel, a sister property of Lyrath located in the centre of Kilkenny city.
Each year, the IASI sends accommodation providers a list of standards which should be met in order to be eligible for an award. Every property is required to get 80% in their inspection to pass. After that, 80% to 87% is a Merit Award, 87% to 93% is a Silver Award and 93% to 100% is a Gold Award.
In winning so many of these coveted awards, Murali manages a team of 6 supervisors, with an assistant manager, 4 linen porters and 32 room attendants, plus the hotel's maintenance staff. With this crack team, he controls every aspect of the hotel's physical appearance, maintaining bedrooms and public spaces alike to scrupulously high standards.
"I am very proud of our record in winning so many IASI Awards," says Executive Housekeeper Murali Dharan, "we work very hard as a team to ensure every surface is spotless and gleaming, and that each detail is as perfect as we can make it, so it is rewarding to be recognised for our quest for perfection!"
« Back