IHF Diary
July Management & Council Meetings

22/07/2020 -

10:00am

to

4:30pm
log in to view »
Want to feature your Hotel on our site? Click HERE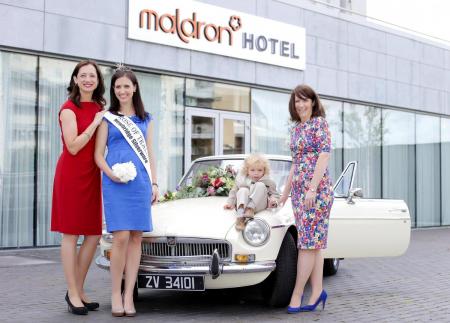 NEW SURVEY REVEALS THAT THE NEW ORLEANS ROSE PROPOSAL AT THE ROSE OF TRALEE LAST YEAR WAS ONE OF THE FESTIVAL'S MOST MEMORABLE MOMENTS
A recent survey has found that almost a quarter of viewers in Ireland considered the proposal to the New Orleans Rose one of the most standout Rose of Tralee moments in memory. The research results commissioned by Maldron Hotels, comes in the wake of an announcement that the hotel brand is a new sponsor and the main accommodation provider for the Rose of Tralee International Festival 2014. Conducted by Empathy Research, the findings also revealed that the Dublin Rose breakdancing and the re-enactment with Crystal Swing were the second two most unforgettable moments in the 55 years that the festival has been running.  
As popular as ever, the Rose of Tralee ranked as the 15th most watched RTE programme in 2013, with the study revealing that more than three in every five adults living in Ireland (62%) tune in to see young women of Irish origin and descent celebrating Irish culture each year in Tralee. The survey has also found that viewers simply cannot get enough of the festival, with a staggering 45% requesting more behind the scenes footage of the TV show, which this year is once again fronted by the quintessential Kerryman, Dáithí Ó Sé. 
Speaking of the research results and the new sponsorship, Stephen McNally, deputy chief executive of Maldron Hotels commented: 'The clear enthusiasm of the Irish people for the festival is what led us to partner with the Rose of Tralee this year. We are keen to become part of what is arguably one of Ireland's greatest exports. The festival has so much to offer; street entertainment, live concerts, theatre shows, markets, funfairs, fireworks and the internationally renowned Rose Parade. The festival has something for all the family, complimenting the Maldron Hotels brand perfectly.' 
The sponsorship of the Rose of Tralee Festival 2014 for Maldron Hotels consists of prominent positioning of the Maldron brand during the televised selection nights on Monday 18th and Tuesday 19th August, as well as access to the festival's many prestigious events and high profile branding opportunities. In return, Maldron Hotels offers the Rose of Tralee Festival 2014 access to Ireland's largest hotel group, which boasts 39 properties with over 6,000 bedrooms and almost 4,000 staff throughout Ireland and in the UK catering for both the business and leisure guest.  Maldron Hotels offer the perfect combination of value, outstanding facilities and excellent service throughout its choice of hotels in Arklow, Athlone, Belfast, Cavan, Cork, Dublin, Galway, Kilkenny, Laois, Limerick, Mayo, Meath, Monaghan, Sligo, Tipperary, Tralee, Wexford and Cardiff Wales.  
Pictured is Rose of Tralee 2013 Hayley O'Sullivan joined by escort, Rhys Kearney aged 3, Patrice Lennon from Dalata Hotel Group and Sinead Boyle, Rose of Tralee 1989 to announce that Maldron Hotels is the official hospitality partner for the Rose of Tralee Festival 2014. 
« Back