IHF Diary
July Management & Council Meetings

22/07/2020 -

10:00am

to

4:30pm
log in to view »
Want to feature your Hotel on our site? Click HERE
Meet the Makers  - Wexford Launches Craft Trail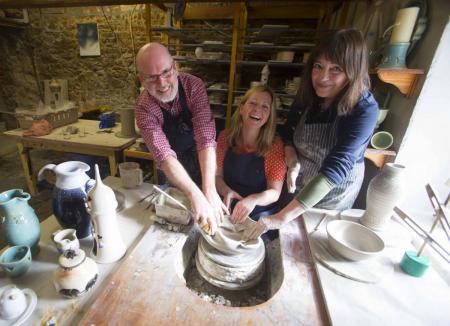 Pictured in studio at Ballyelland Pottery are Potters and members of the Wexford Craft Trail Mairead Stafford, Paul Maloney and Patricia Howard launching the first Craft Trail for the 'Model' county of Wexford. 
Susan Brindley of the Design & Crafts Council of Ireland was on hand to launch the very first Craft Trail for the 'Model' county.
The new trail aimed at visitors to the region offers an insight to nineteen different craft makers on a driving route right across the county.
The free trail directory features a guide containing maps and directions to the gallery's, craft workshops and exhibition spaces in Wexford. Visitors can meet the makers in many of the workshops and gain a greater insight to the skills involved in their own craft.  Milliners, Potters, Weavers, Wood turners, Sculptors and Jewelers all feature across the trail offering visitors an opportunity to view a broad variety of traditional crafting skills.
Launching the Wexford Craft Trail, Susan Brindley Head of Public Affairs & Communications said, "I am delighted to launch this wonderful Craft Trail for County Wexford which showcases the wealth of creative talent that exists throughout the county.  This easy to navigate trail offers domestic and international visitors unique opportunities to discover authentic Irish crafts; to meet makers in their studios, see them at work, learn more about the stories behind products designed and made in Wexford, and of course to purchase a piece of craft for themselves or a loved one. I would like to commend Wexford Craft Network on coming together to create such a professional trail, which will greatly enhance a visitor's experience of the county. I wish them every success."
The Craft Trail is the latest offering in a series of trails across County Wexford including a Garden Trail, a Heritage Trail, a Walking Trail and Food Trail. It is hoped the new trail will offer a boost to revenue in the leisure and pleasure business in the county.
Chair of the Wexford Craft Trail, Padraic Parle said, "This craft trail sits comfortably with the artistic history of the town and county of Wexford and the current prevalence of artists and makers living and working here. There are nineteen different offerings across the trail and each have a very diverse craft. Workshops, exhibitions and events are held right across the year so this trail really enables all of us crafters to come together, combine our skills and host a variety of interesting events for future visitors. This is an opportunity to discover studios; workshops and even garden workshops not normally open to the public."
The Wexford Craft Trail features, The Blue Egg Gallery, Martin Doyle Goldsmith, Sculptor Gilly Thomas, Creations by Annette Whelan, Textile Artist Phil Stewart, Robert O'Connor Woodturning Studio, Blacksmith and Designer Dainius Varnelis, Potter Paul Maloney, The Ros Tapestry, Ceadogan Rugs, Tir na Nog Creations, Weaver Terry Dunne, Grainne Kenny Design, Potter Patricia Howard, Woodturner Maurice Duggan, Ballyelland Pottery, Milliner Patsy Flood O'Connor, The Forge CraftShop and Milliner Amanda Byrne.
Visitors will be encouraged to try their hand at various have-a-go venues, including creating a work of art at future events in the Wexford Craft Trail Calendar. For further details on the Wexford Craft Trail see www.visitwexford.ie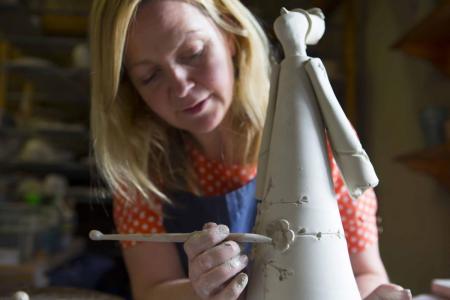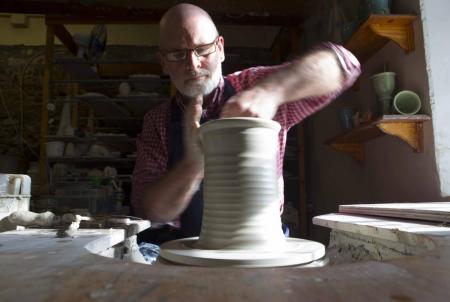 Photos: Patrick Browne
« Back