/sites/default/files/upload/jitis_technical_tips_and_requirements_for_eures_event_17th_november.pdf
Minister Michael Ring Launches New "Gathering" App
On May 1st Minister Michael Ring launched a brand new app for iPhones and android devices – designed specifically for The Gathering Ireland 2013. Called "Gathering Gestures", the app has been created by Tourism Ireland, offering a wide variety of "gestures" to ensure our international visitors get more from their holiday here and an extra special welcome in this year of The Gathering.
The app – available on the international app store – and is free for people around the world to download before they arrive here. Tourism Ireland will promote the app to prospective visitors through its website, Ireland.com – reaching more than 11 million potential visitors around the globe.  The app will also be highlighted on thegatheringireland.com.
To date, about 500 tourism organisations from around Ireland have registered their "gestures" for the new app, to demonstrate their appreciation to visitors for spending time with them during their holiday in Ireland. The Irish Hotels Federation (IHF), B&B Ireland, Heritage Ireland, the Restaurants Association of Ireland (RAI) and Good Food Ireland are all encouraging members to take part.
Examples of the "gestures" include a complimentary tour of Kenmare in a 1936 vintage Buick – offered by the Sheen Falls Lodge Hotel; a free seaweed bath for anyone doing a walking or cycling tour which passes through or stays in Leenane – offered by Connemara Adventure Tours; complimentary tea or coffee and home baking on arrival at B&B Ireland homes; a complimentary "Gathering" cocktail or mocktail at the Ice House Hotel in Ballina; as well as lots of other added value experiences like brown bread-making demonstrations, complimentary Irish coffees and special "Gathering" value menus from RAI members. Golf courses are also on board – with special incentives for Gathering groups and Waterford Crystal is even offering a special "Gathering" trophy for a hole in one!
Minister Ring said: "I am delighted to launch this great gift to our visitors for this special Gathering year. It combines the best of Ireland's traditional hospitality and generosity with the cutting edge of modern Ireland. I am particularly pleased to see tourism businesses of all kinds responding to this opportunity to offer a little extra something. I would urge every business in the country dealing with tourists to come on board and offer their own free gifts to show our appreciation of our overseas visitors. Congratulations to the team in the Gathering Ireland and Tourism Ireland on coming up with this innovative smartphone app."
The Gathering Ireland is a key focal point of all Tourism Ireland's promotional activity around the globe in 2013, particularly in countries with a strong Diaspora connection – including Great Britain, the US, Canada and Australia. The Gathering offers an outstanding opportunity to connect with our Diaspora and most importantly, to give them a compelling reason to visit Ireland 'now' and Tourism Ireland has a busy programme of promotions under way to capitalise fully on that opportunity. Niall Gibbons, CEO of Tourism Ireland, said: "The Gathering Ireland is all about playing to our strengths – Ireland is known the world over for the warmth of our welcome. Every business, no matter how large or small, can play a role in making 2013 our most important year yet for tourism. Our "Gathering Gestures" app is an ideal way to demonstrate our warm welcome and our appreciation of visitors from around the world. We have a busy programme of promotions under way throughout 2013, placing the spotlight on the many great festivals and events taking place right around Ireland as part of The Gathering. Our message is that there has never been a better time to visit."
For any members who wish to get involved and offer their own "Gathering Gesture", more information can be found on http://gestures.thegatheringireland.com/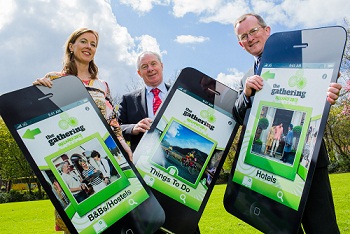 Pictured above: Minister Michael Ring, with Tourism Ireland CEO Niall Gibbons
and Monica MacLaverty, Overseas Manager – The Gathering Ireland.