IHF Diary
July Management & Council Meetings

22/07/2020 -

10:00am

to

4:30pm
log in to view »
Want to feature your Hotel on our site? Click HERE
Next generation of Irish Hotel Managers complete their degree in IT, Tralee.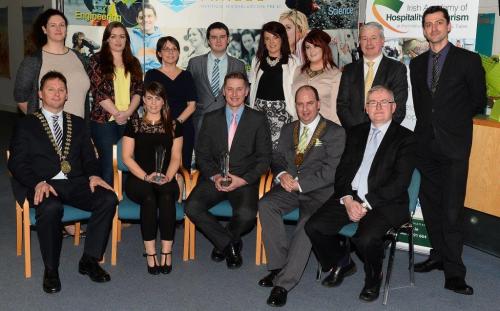 Back row L-R
Danielle Delaney (The Brehon), Michelle Byrne (Riverside Park), Mary Rose Stafford (ITT), Daniel Griffin (Fels Point), Georgina Howley (Sligo Park), Grainne Kenna (Hotel Westport), Conor Hennigan (The Malton), Igor Van Riels (Killarney Plaza)
Front row L-R
Stephen McNally (President IHF), Orla O' Driscoll (Killarney Plaza), Bjorn Minnie (The Malton), Sean O' Driscoll (President, Kerry IHF ), Dr Oliver Murphy (President, ITT)
Students from hotels all over Ireland graduated with a BA in Hotel Management at the Institute of Technology, Tralee (ITT).  The graduates, sponsored and mentored by their hotel employers, participated in a programme that is the first blended approach to hotel education of its kind in Ireland.  The three year Hotel Management Course combines traditional classroom lectures with work-based learning and on-line modules. 
Participants are earning as they are learning and they are making a real difference to Irish hotels. The students work in hotels, attend college in intensive study blocks with on-line modules delivered weekly.
The Institute of Technology, Tralee is leading the way in delivering this combined approach to respond to industry requirements for hotel managers with highly-focussed, industry specific degrees as well as practical, on-the-job experience.  
At the graduation ceremony, President of ITT, Dr. Oliver Murphy said "Using technology to enhance our provision of education has allowed us to respond to industry needs to train and education the next generation of hotel managers nationwide".
This year's graduates represented hotels in Sligo, Mayo, Dublin, Wexford, Cork, Limerick and Kerry. Bjorn Minnie, trainee manager at the Malton Hotel, Killarney said the three year programme at ITT has been hugely beneficial in terms of adding to his practical experience and his performance on the job.  He also added: You develop a great network of other trainee managers throughout the country and you learn from each other. More importantly, you learn from the best in the industry and in education".
Bjorn, and fellow classmate, Orla O'Driscoll from Killarney Plaza hotel both received Student Awards for outstanding contribution over the three years of the programme.
ITT is currently taking applications for BA Hotel Management degree course commencing January 2016.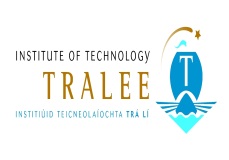 « Back