IHF Diary
October Management & Council Meetings

14/10/2020 -

10:00am

to

4:00pm
log in to view »
Want to feature your Hotel on our site? Click HERE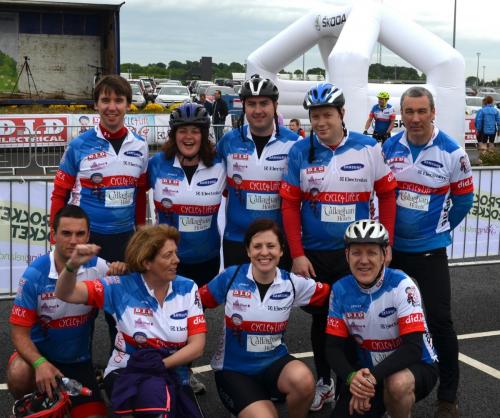 O'Callaghan Hotels sponsorship for Temple Street Children's Hospital reaches €10,000
Almost €10,000 has been raised this year to date by the O'Callaghan Hotel Group for Temple Street Children's Hospital. The Hospital is one of the O'Callaghan Hotels selected charities for 2014.
Nine staff from the O'Callaghan Hotels brought the sponsorship total to €10,000 recently when the group did the Cycle 4 Life 55k charity cycle event and raised over €2,000 in the process. The grueling 55k challenge started and finished in Dunboyne, Co Meath. 
Pictured here are the staff who took part, (back row left to right): Bryan O'Callaghan, Chief Executive Officer; Mary Vaughan, Director of Human Resources; Paul McGreal, HR Manager; David Malanaphy, Group General Manager; Gerry Colreavy, IT Manager; (front row left to right) Graham Cooley, Davenport Hotel Manager; Catherine Bodley, Director of Sales & Marketing; Marian Lyne, Marketing Executive; Noel Healy, Head Chef Davenport Hotel.    
Some of the team members had adhered to a busy training schedule in the lead up to the charity event, while for others it was their first time on a bike in over 10 years.
The group managed to stay together for the first five minutes of the race, however it wasn't long before 'the men separated from the boys' and the pressure was on to keep up the pace. HR Manager, Paul McGreal and Head Chef at the Davenport Hotel, Noel Healy, led the group, however Noel got in to difficulties early on, encountering two punctures during the race. 
The main challenge for the O'Callaghan Hotels team was reaching the top of the Hill of Tara, an exceptionally steep hill at the 25k mark, but the encouragement and support from the volunteers helped the cyclists and all made it up and over in one piece.  The entire O'Callaghan Hotels team crossed the line within a respectable three hours.
David Malanaphy of O'Callaghan Hotels said: "We would like to say a big thank you to everyone involved in organising such a fantastic event, I think everyone was delighted and we will definitely be back!"
Following the success of the Cycle 4 Life cycle, members of the O'Callaghan's Hotel team have decided to invest in racing bikes and plan to cycle the longer distanced race of 105k in 2015.
« Back