NEW PRESIDENT OF IRISH HOTELS FEDERATION ELECTED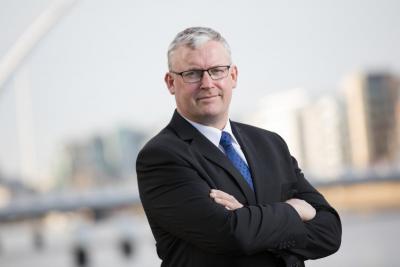 Tuesday, 27th February 2018                       
The Irish Hotels Federation (IHF) today announced Michael Lennon as its newly elected President for a two-year term. A fifth generation hotelier with over 25 years' experience in the hotel sector, Mr Lennon becomes the 37th President of the IHF, succeeding Joe Dolan. The IHF is the leading representative tourism body in Ireland representing almost 1000 hotels and guesthouses, which employ over 60,000 people throughout the country.
During his term, Mr Lennon will give priority to addressing the ongoing challenges facing the hotel and guesthouse sector, focusing on ensuring that the right business environment exists to support the sustained growth of Irish tourism. His key priorities include mitigating the risks posed to the industry from Brexit, tackling the high cost of doing business in Ireland, increased marketing and product development support for tourism, particularly in the regions, and the continued expansion of skills and training support for employees within the tourism and hospitality industry.
 
"Tourism has enjoyed strong growth in recent years. 2017 was a record year for the sector and the signs are promising for 2018. The renewed confidence felt by hoteliers can be seen in the growing numbers employed within the sector with tourism now supporting over 230,000 jobs, making it Ireland's largest indigenous employer. It is also reflected in the increased investment taking place in hotels, from refurbishment and expansion to new developments, particularly in the case of Dublin, where it is much needed," he said.
 
"However, there are serious challenges that need to be tackled to ensure the sustained growth of the tourism and hospitality sector. Chief among these is Brexit, which poses a particular risk to tourism in the regions. Tackling the high cost of doing business in Ireland will help to ensure that the right business environment exists to withstand the negative impact of Brexit.  In recent years, we have seen how market diversification and new product development can open up new parts of the country to tourism to great success. We must build on that success, particularly for those parts of rural Ireland that are in danger of being left behind. And we as an industry must prioritise the development of best-in-class training and skills programmes for our employees, helping them to build successful and flexible careers."
"I look forward to working with the Government to ensure tourism remains at the heart of Ireland's economic policy. We must work closely together to sustain the growth of the Irish tourism and ensure it realises its full economic and job creation potential," says Mr Lennon. "Our industry has a proven track record of job creation, having created one in every four new jobs since 2011. Given the right support, Irish tourism has the capacity to generate a further 40,000 new jobs by 2021, which would be of tremendous benefit to the economy."
 
A native of Co Carlow, Michael Lennon is a graduate of the College of Catering, Cathal Brugha Street. He began his career in Chicago before returning to Ireland, where he initially worked with the Great Southern Hotel Group before joining Brian McEniff Hotels. Together with his wife, Joanne McEniff, he owns and runs the Westport Woods Hotel, which they bought over twenty years ago.
Michael has been an active member of the Mayo branch of the Irish Hotels Federation for over twenty years and was heavily involved in the establishment of the Destination Westport marketing group, which has led to substantial public and private partnership investment in the town. He has been a member of the Federation's National Executive Council for a number of years and prior to his election served as Vice-President.
- ENDS -
FOR INFORMATION:
Ger McCarthy/Siobhan Molloy                                   Dublin office: 01 6798600
Weber Shandwick                                                            Mobile: 086 233 3590 / 086 817 50 66
Tourism sector at a glance
·         8.97 million overseas visitors, up 2.6% on 2016
·         Tourism accounts for almost 4% GNP
·         Total tourism revenue of €8.75 billion in 2017, up from €8.39 billion in 2016
·         Irish tourism set to increase 40,000 jobs by 2021
·         Tourism industry as a whole now supports approximately 230,000 jobs - equivalent to 11% of total employment in Ireland with over 60,000 of these jobs in the hotels sector alone
·         UK visitor numbers have fallen from 3,632 million in 2016 to 3,387 million (estimate) in 2017, a drop of 6.7%
·         €6.88 billion in foreign exchange earnings in 2017 (€6.61 billion in 2016) 
·         €1.87 billion in domestic tourism revenue in 2017, up 5.2% on 2016
·         824 Hotels (820 in 2017) and 58,425 Hotel bedrooms (57,596 in 2017)
·         170 Guesthouses (181 in 2016)  and 2,450 Guesthouse bedrooms (2,598 in 2016)
·         Total of 60, 875 hotel and guesthouse bedrooms in Ireland (60,194 in 2016)
About the IHF
Founded in 1937, the Irish Hotels Federation (IHF) is the national organisation of the hotel and guesthouse sector in Ireland. It represents almost 1,000 hotels and guesthouses nationwide, employing over 60,000 people and is a key stakeholder in the Irish tourism industry.