IHF Diary
July Management & Council Meetings

22/07/2020 -

10:00am

to

4:30pm
log in to view »
Want to feature your Hotel on our site? Click HERE
The Riverside Park Hotel unveil new extension after €1.6 million investment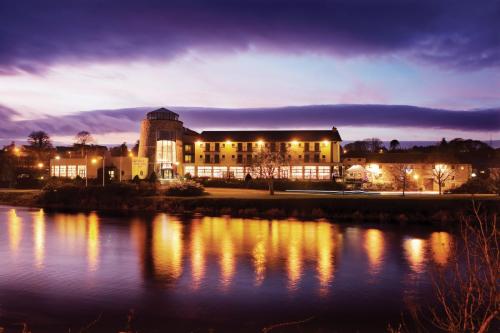 The four-star Riverside Park Hotel in Enniscorthy, county Wexford run by the Neville family this week opened the doors to a new state of the art conference and banqueting suite and an additional 20 luxurious guest bedrooms.
The new Suite was named after one of Enniscorthy's more famous sons, Seamus Rafter and was unveiled by the nephew of Seamus Rafter himself, Seamus Rafter.  
This 1.6 million euro investment creating the entire new wing will create an additional requirement for 10 new jobs at the property, bringing to total number of staff employed at The Riverside Park Hotel to 145.
Commenting on the new facilities added, Owner Colm Neville said, "The new conference suite is a great addition to the hotels already impressive conference and banqueting facility as we now offer 5 conference rooms. The New Seamus Rafter Suite features versatile function areas and state-of-the-art technology in an atmosphere of opulent comfort. Designed by Stephen Carr Architects and Interior Designer Liz Harte.  Its charm and sophisticated décor, makes it the perfect venue if you need to get away from your day to day environment, team building, facilitating training days, meetings and private gatherings."
Additionally The Riverside Park Hotel introduced 20 new deluxe bedrooms and boasts a total of 78 luxurious bedrooms and a lavish Penthouse Suite.
The Riverside Park Hotel was built in 1998; this is the first extension to the hotel since a complete renovation of the property was carried out in 2011 adding opulence to the four-star standard property. The entire new wing spans a square footage of 14,000 feet.
For further details on the new facilities see www.riversideparkhotel.com
« Back