IHF Diary
October Management & Council Meetings

14/10/2020 -

10:00am

to

4:00pm
log in to view »
Want to feature your Hotel on our site? Click HERE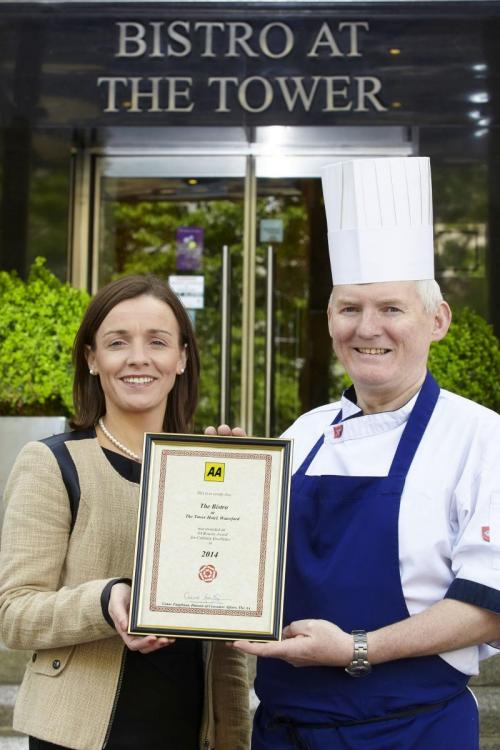 Tower Hotel, Waterford 'Bistro Restaurant' Awarded Prestigious AA Rosette
General Manager at the Tower Hotel, Waterford and Executive Chef at The Tower Hotel Waterford, John Moore celebrating the award of a  prestigious AA Rosette for culinary excellence at he Tower Hotel's 'Bistro Restaurant' 
The Tower Hotel's 'Bistro Restaurant' has been awarded a prestigious AA Rosette for culinary excellence. This exclusive award is only given to restaurants that display very high standards and show consistency and attention to detail combined with world-class ingredients and customer service.
Commenting on the award Alicia Maguire, General Manager at The Tower Hotel in Waterford City said, "We are delighted to have been awarded an AA Rosette for The Bistro restaurant. This is a great accolade for 'The Bistro' restaurant and one we are very proud to achieve. It is our first AA Rosette award and the dedicated team here at 'The Tower Hotel' work hard to ensure our guests not only enjoy a comfortable stay but that they have a great dining experience too. We have an excellent team in the restaurant and kitchen and to receive this prestigious award is a testament to the hard work and dedication of Executive Chef John Moore, Head Chef Ray Kelly and their experienced team."
All AA Rosettes are awarded after a restaurant is successful following a series of stringent tests carried out by the AA Hospitality Team, which includes a number of mystery food critic visits.
The menu at 'The Bistro' proves to be popular with both locals and visitors alike focusing on delectable local ingredients and innovative preparation with a high standard of service and an extensive wine list. 'The Bistro' combines delicious cuisine in an intimate and stylish atmosphere and provides menus created to cater for all dietary requirements and also special occasions. 
The colours of the Waterford Marina inspire the design of the Bistro, overlooked by the hotel and within view of the restaurant, resulting in a fresh yet calm environment, perfect for a relaxing breakfast or evening meal.
'The Bistro' is open seven days per week for dinner and lunch on Sundays; for further details see www.towerhotelwaterford.com.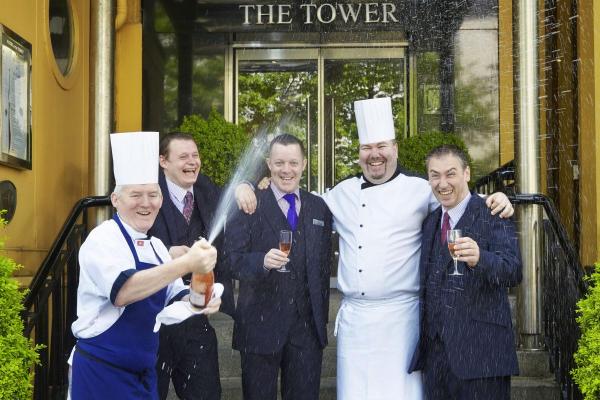 Staff at the Tower Hotel, Waterford celebrating the award of a  prestigious AA Rosette for culinary excellence at he Tower Hotel's 'Bistro Restaurant'
Photos: Gerry O'Carroll
« Back