TRIBES ALIVE RETURNS DUE TO PUBLIC DEMAND!
Dramatic Walking Tour of Galway's Medieval Latin Quarter is Back
Galway Thursday 18th July 2013- Fancy an exciting living history journey through the heart of medieval Galway? And one which offers an authentic and fun insight into the city's rich cultural heritage? Then don't miss Tribes Alive!, an enchanting 60 minute dramatic walking tour through the winding medieval streets of Galway's Latin Quarter.
Presented in an engaging and humorous way, the tour in association with Failte Ireland returns for an extended run after a successful pilot last year and will again take participants on an enchanting journey back in time. Written by Paraic Breathnach, directed by Rod Goodall and featuring local actors, the tour will visit nine of the city's most historic landmarks including Blake's Tower, Kirwan's Lane, St Nicholas' Collegiate Church, The Hall of the Red Earl and Spanish Arch.
With up to two performances per day and private tours available by arrangement, this unique tour based on historical fact and humorous observation brings to life great Galway stories, larger than life Galway characters and historical Galway events. Don't miss it!
Looking forward to the re-launch of Tribes Alive, Fiona Monaghan, Failte Ireland's Head of Operations, believes the initiative will give a great boost to the City, and said:
"Fáilte Ireland continues to invest heavily in enhancing the cultural and heritage product across the country in 2013 and while Galway has some world-famous summer festivals, experiences like this, which combine live professional performances with our living history, are becoming increasingly attractive as they bring to life our heritage and culture and offer the visitor the opportunity to immerse themselves in it.
We are delighted to be supporting Tribes Alive again in 2013. A product like this which harnesses the energy and history of the city is guaranteed to enhance the visitor experience in Galway against the backdrop of our vibrant City of Culture and Festivals. The addition of this unique experience to the busy summer calendar serves to reinforce the City of the Tribes' reputation as a premier destination for domestic and international visitors."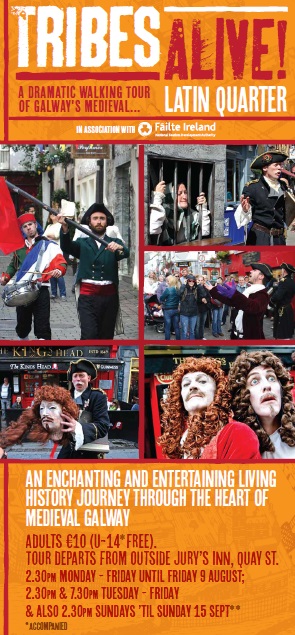 Advance booking though not essential is available through the Discover Ireland Centre, Forster St, Galway; or book online at www.myticketsireland.ie. Tickets also available from Galway Arts Centre 47 Dominick St and Lally Tours Office Forster St. ** Tour concludes 15 September. For more information visit www.thelatinquarter.ie or e mail info@thelatinquarter.ie
CLICK HERE for Brochure
Tickets €10* (*Accompanied U-14's free). Tour departs from outside Blake's Tower, near Jury's Inn, Quay St.  2.30pm Mon - Fri until Fri 9 Aug; and then 2.30pm & 7.30pm Tues to Fri & also 2.30pm Sundays 'til Sun 15 Sept
The Tribes Alive Theatrical Walking Tour is a Destination Development 2013 initiative of Failte Ireland, supported by Galway's Latin Quarter.  The Failte
Ireland Tourism Product Development Strategy 2007-2013 recognises the need to invest in the experience of culture and heritage provided to visitors. The aim of the Interpretation and Animation scheme (from which Tribes Alive is funded) is to enhance the visitor experience by supporting innovative projects which bring to life our heritage and culture both inside visitor attractions and in the public spaces of key destinations.
ENDS
Top image from Andrew Downes Photographer