WINNERS OF QUALITY EMPLOYER AWARDS ANNOUNCED BY THE IRISH HOTELS FEDERATION
Tuesday, 3rd March 2015: The Irish Hotels Federation (IHF) has announced the winners of its inaugural national Quality Employers Awards, celebrating standards of excellence in human resource management across the hotel and guesthouse sector. The awards, which were presented at the IHF's annual conference by Minister of State for Tourism and Sport, Michael Ring, TD, recognise hotels and guesthouses that attract, empower and develop employees in line with the overall goals and objectives of the Quality Employer Programme.
Three awards were presented to winners according to the size of the premises:
 Large Hotel Quality Employer Award:                     The Knightsbrook Hotel, Trim
 Medium Hotel Quality Employer Award:                 The Glenview Hotel, Delany, Wicklow
 Small Hotel Quality Employer Award:                     The Skeffington Arms Hotel, Galway
Congratulating the winners, Tim Fenn, Chief Executive of the IHF said: "People are the backbone of Ireland's hotels sector and our wider tourism industry. They are without doubt one of our greatest resources, playing an essential role in ensuring our guests have a truly memorable and enjoyable stay right from the time they arrive to when they check out."
"The calibre of the entrants to our inaugural awards has been outstanding and is a reflection of the importance hotels and guesthouses place on investing in their employees," says Mr Fenn. "A professional, competent and well-managed workforce is essential for the future growth and success of our sector and this is clearly recognised by our members." 
The award announcement coincides with National Employment Week 2015 which the IHF supports. In particular, as a signatory to the Employment and Youth Activation Charter, the IHF and its members look forward to supporting jobseekers through a range of work initiatives across the country.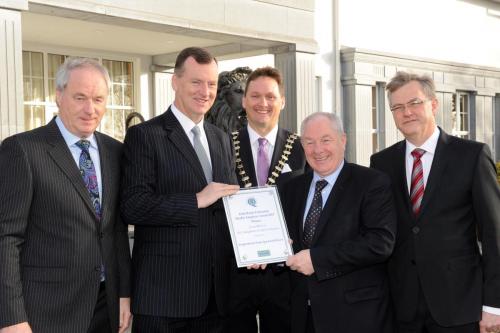 Large Hotel Quality Employer Award
Winner: Knightsbrook Hotel, Trim
Michael Ring TD Minister of State at the Department of Transport, Tourism & Sport presents Patrick Curran, Knightsbrook Hotel, Trim, County Meath with the IHF Quality Employer Award 2015 (large hotel category) at the IHF's annual conference. Also pictured from left are: Tony Lenehan, chair of the judging panel; Stephen McNally, IHF President; Tim Fenn, IHF Chief Executive. Picture by Don MacMonagle
Medium Hotel Quality Employer Award
Winner: The Glenview Hotel, Wicklow
Michael Ring TD Minister of State at the Department of Transport, Tourism & Sport presents Denise English and Brian McNamara, Glenview Hotel, Wicklow with the IHF Quality Employer Award 2015 (medium hotel category) at the IHF's annual conference. Also pictured from left are: Tony Lenehan, chair of the judging panel; Tim Fenn, Chief Executive, IHF; and Stephen McNally, President, IHF. Picture by Don MacMonagle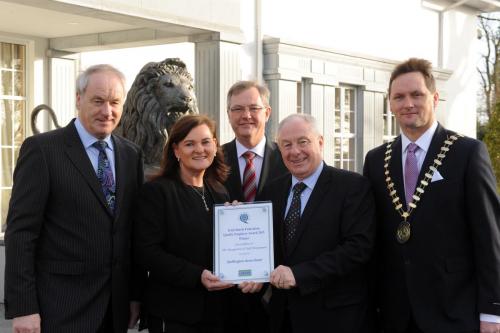 Small Hotel Quality Employer Award
Winner: The Skeffington Arms Hotel, Galway
Michael Ring TD Minister of State at the Department of Transport, Tourism & Sport presents Siobhan Callanan from the Skeffington Arms Hotel, Galway with the IHF Quality Employer Award 2015 (small hotel category) at the IHF's conference. Also pictured from left are: Tony Lenehan, chair of the judging panel; Tim Fenn, Chief Executive, IHF and Stephen McNally, President, IHF. Picture by Don MacMonagle
ENDS
FOR INFORMATION:
Eoin Quinn / Siobhan Molloy                       Dublin office: 01 6798600
Weber Shandwick                                           Mobile: 087 233 2191 / 086 817 50 66