Uniforms
Buttercups Uniforms | Warm workwear for the winter months
Smart, functional and comfortable pieces.
IHF Associate Member

A
fter a cold and stormy week where Storm Barra made itself felt across the country, now is a good time to ensure you have invested in warm uniform essentials for your team in advance of the chilliest months of January and February.
Invest in a cover-up
The quickest and easiest way for your team to cope with temperature changes is a cover-up. Most will arrive in a coat or perhaps bring a cardigan or hoodie to throw on during breaks, but this won't necessarily create the professional look you want.
There are solutions, however. Setting rules regarding cover-ups is one idea, for example, no sports tops, logos or bright colours, or perhaps requesting plain black only. Another solution is including a cover-up as part of the uniform. At Buttercups, we stock a beautiful fine-knit V-Neck Cardigan that is ideal for layering over a winter uniform; available in black, navy, grey and purple, this smart yet warm cardigan is perfect for hospitality uniforms.
Alternatively, we also stock the practical Results Core softshell jacket an advance two-layer jacket with sizing available for men and for women. Again, smart enough for use around your hotel or guesthouse this beautiful jacket can even be embroidered with your name and logo!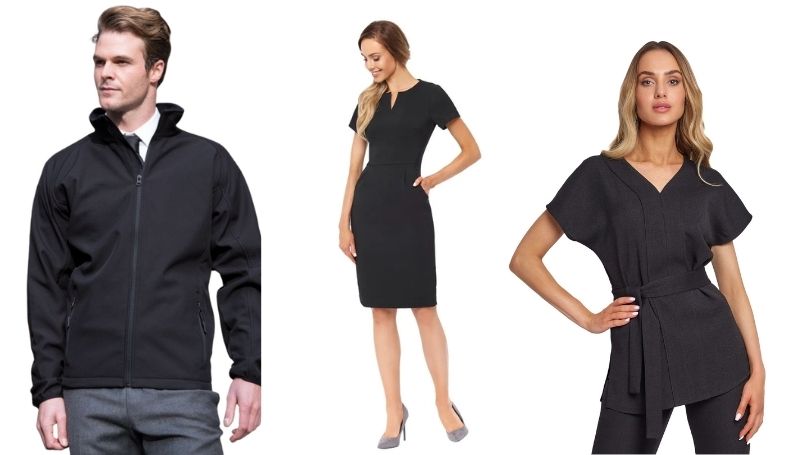 Look at other uniform options
For some team members including beauty therapists and those working in reception areas, a short-sleeved tunic is often the most practical option – but you might need to look at warmer alternatives for the winter months. Layering is always an option, especially with Buttercups' looser uniform options such as our range of Scrubs and our High V Neck Tunic B035E.
Another alternative is to look for a tunic with longer sleeves such as our versatile Long Sleeve Tunic with Front Pocket B036E. This clever design is loose enough to fit a thermal layer underneath for team members in chilly reception areas or outside stations, yet loose enough to keep spa and beauty therapists cool in heated treatment rooms. Or, give the option of our Long Sleeve Bow Detail Tunic B215LS – those working in treatment rooms can opt instead for the short-sleeved version!
For reception staff, a really great alternative to a tunic is a smart tailored dress. Our Waist-Detail Dress with Pockets B620DR is an ultra-stylish and professional look for the front office team. The classic lines of this beautiful dress are ideal for wearing with black tights in the winter months, with a smart suit jacket on top. All these options mean that there's no need to spend the colder months shivering in an impractical winter uniform – a little forward thinking is all that's required!
View our full range on our website or contact our team below to discuss a bespoke solution.
Contact details
Irish Hotels Federation | Working Together