Insights
Cushman & Wakefield | Annual Irish Hotel Market Briefing Part 2
What's the road to recovery? The journey to rebuild hotel profits and valuations
Cushman & Wakefield
IHF Associate Member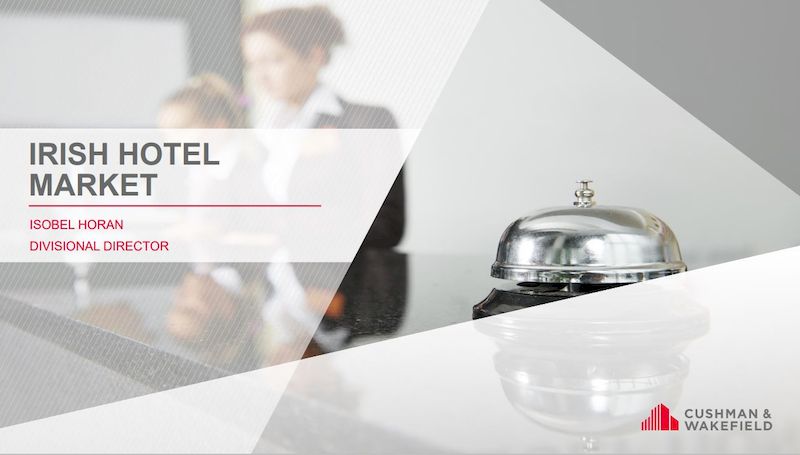 The annual Irish Hotel Marketing Briefing, held in partnership with Crowe, focused on the theme "What's the road to recovery? The journey to rebuild hotel profits and valuations" which looked at current trading performance, investor sentiment and development landscape and the outlook for the sector as it struggles to recover from the impact of the pandemic.
Key insights from Cushman & Wakefield's Presentation:
Isobel Horan, Divisional Director, Cushman & Wakefield outlined recent transaction activity across the Irish and EMEA markets. While transaction activity remains muted over the last 18 months, the sentiment in the sector remains positive with transactions in the Irish market for the first half of 2021 (nine completed transactions worth €184m) already above 2020 levels (seven transactions worth €145m). Sales concluded so far this year include The Morrison for €68m, The Moxy for €35m and the forward commit of Premier Inn Castleforbes forward sale to Union Investments for €70m.
The key reason for reduced transactional activity over the last 18 months was the lack of assets being brought onto the market. Many owners were pre-occupied with challenges of the everyday management and held off selling as they didn't want sales to be viewed as distressed sales. Another feature was the gap between buyer and seller expectations, however, this is expected to narrow down once performance starts to recover.
Ms Horan commented that 2,400 of predominately budget hotel bedrooms will be added to the Irish market in 2021, a category that has been traditionally undersupplied in Ireland.
These room additions are coming via Holiday Inn Express which has recently opened with 421 keys as well as the new domestic brand REZz, which recently opened a 73-bed hotel on MacCurtain Street in Cork City. Other large budget hotels opening soon, include Travelodge Plus Dublin City centre (393 bedrooms) and Motel 1 (310 bedrooms).
Irish Hotels Federation | Working Together