Food Service
Enter now to win a Flipdish technology package worth €10,000
12 Pubs Done Differently: Flipdish launches a Christmas Competition.
IHF Associate Member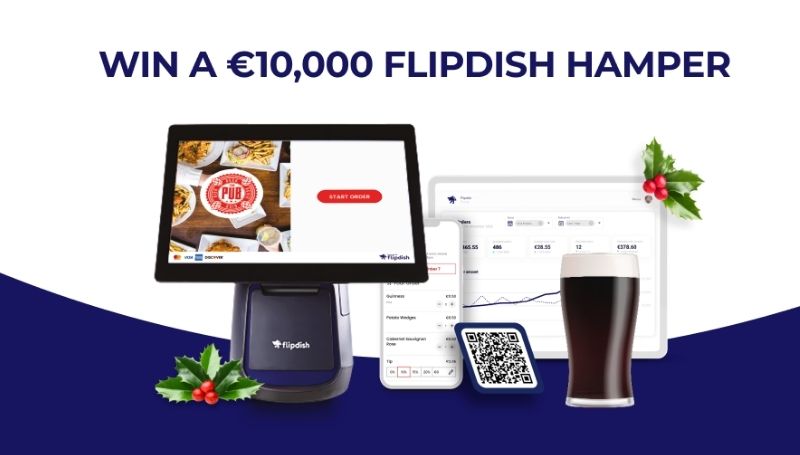 Flipdish, the digital ordering platform, are hosting a competition giving you the chance to win 1 of 12 Flipdish technology packages each worth €10,000. The competition is open to all bars and restaurants, including those in hotels and guesthouses.  
The hospitality sector has suffered enormously throughout the pandemic and continues to do so today. Flipdish's mission has always been to help food business owners take control of their business and during the pandemic their priority was to enable business owners to survive and thrive through Flipdish technology. 
For this reason, Flipdish are giving back to the sector and giving restaurant and pub owners the opportunity to win 12 Flipdish technology packages. These packages each include: 
QR code Table Ordering with no fees*
One 15-inch Kiosk with no fees*
€1,000 of hardware and set up
€1,000 of tailored marketing materials 
Speaking about the launch of the competition, Conor McCarthy, CEO and Co-Founder of Flipdish stated, "We're getting into the Christmas spirit here at Flipdish HQ and we want to spread the cheer within the hospitality sector. Businesses right across the country have had a difficult 20 months or so since the pandemic began. 
At Flipdish, it is our mission to address potential challenges in the industry and make it more effective and efficient. That is why we developed our QR code Table Ordering and Kiosk technologies and we have received exceptional feedback from customers right across our global markets. We hope our competition winners will be able to experience the full impact of what Flipdish has to offer and how it can be of assistance to hotels and guesthouses with bars or restaurants right across Ireland."
The competition is open to Flipdish customers who do not use both Table ordering or Kiosks and businesses who are completely new to Flipdish. To enter, all you need to do is follow the link and fill in your details.
Closing date for entries is Monday, 6th December 2021 at 5pm.
*Limits apply, see link for details on T&C's 
Contact details
Irish Hotels Federation | Working Together