IT
Vamoos - The hotel app that cuts cost and doubles extra sales
Save money and time by going digital.
IHF Associate Member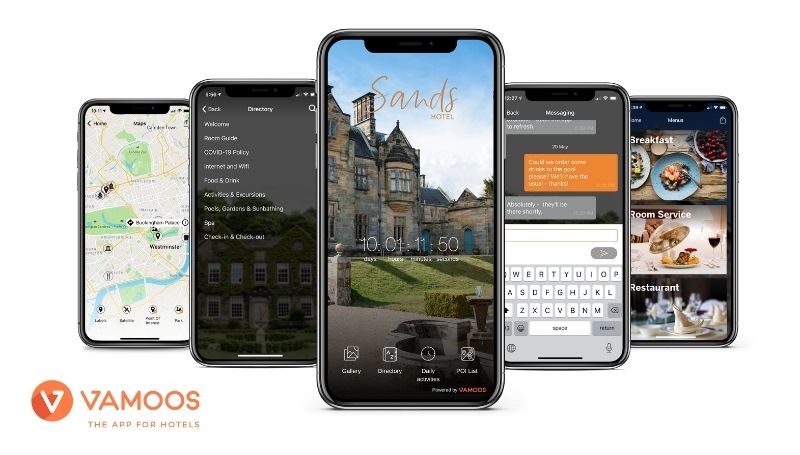 Companies are saving money and time by going digital. Tewkesbury Park, a family owned hotel, golf and leisure resort with views of the Cotswolds in England, joined Vamoos and never looked back once it helped them to cut paper and increase sales of extras.
Saving Costs by Easily Changing Menus
"Vamoos has cut the cost of printing seasonal menus hugely. Before we might have spent about £400 (€465+) on print and design, now we only pay for design and post it on Vamoos". Says Patrick Jones, general manager of Tewkesbury Park.
With Vamoos, changing a menu no longer means wasted time and expensive printing costs, because updates can be made with a few taps of a keyboard.
Vamoos Lowers Risks on Brochure Costs
Thanks to Vamoos, Tewkesbury Park were able to go digital on their Festive Brochure, which saved hugely on the gamble of whether to spend nearly £3000 (€3500) on print material. So when Christmas was all but cancelled due to COVID, they hadn't wasted any money.
Doubling Sales of Extras
Tewkesbury Park used to advertise their in-room spa bar, a service that guests can use to order spa product bundles for some in-room pampering, through traditional methods like flyers and leaflets.
The results weren't great. Guests just didn't seem that interested, probably because the flyers were lost among other literature in their rooms. Once they started using Vamoos, though, they had a direct line to guests. They utilised Vamoos' in-app messaging and notifications to inform guests about the spa bar, and sales doubled.
It wasn't that guests hadn't been interested before, they just hadn't realised the service was available.
As Patrick Jones, Tewkesbury Park's general manager, says: "Putting the spa bar on Vamoos has allowed us to bring the whole experience to life. It's allowed us to put the experience in front of people more easily."
To book a free 15 minute consultation with Vamoos, Click Here.
Contact details
Irish Hotels Federation | Working Together