Uniforms
Buttercups Uniforms introduces 100% recycled and recyclable collection
A fully sustainable weave fabric that is soft, durable, breathable and supple
IHF Associate Member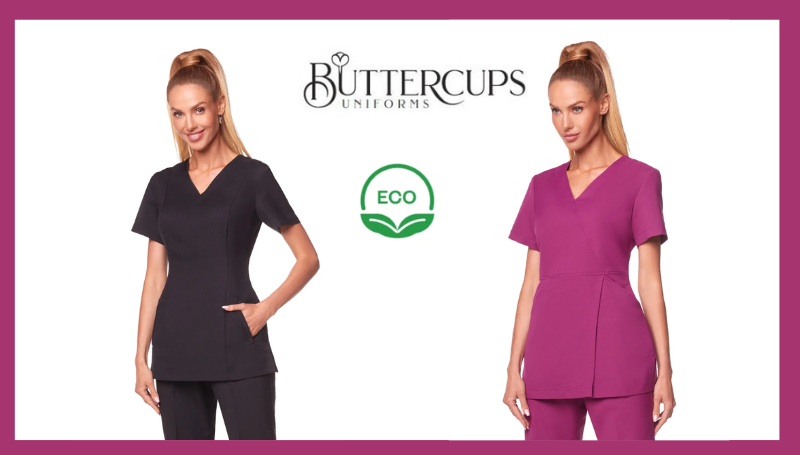 With over 30 years' experience in producing some of the most stylish, durable and fashion-forward uniforms in Europe, Buttercups is proud to have led the way when introducing new styles and innovations. But now the company has launched a new collection that has the potential to truly revolutionise the industry – our new uniforms made with 100% recycled and recyclable fabric.
Recognising the massive impact that fast fashion has on the environment, Buttercups has worked tirelessly to find a sustainable yet practical alternative to the traditional fabric used for uniforms. As we know, uniforms must be hardwearing, easy to care for, and break new ground in terms of breathability, colour-fastness and stain resistance – so the race was on to find a sustainable fabric that combined all these features needed to produce practical workwear.
The result of this work is 2Life fabric, a fully sustainable weave fabric that is already popular for a huge range of clothing, from haute couture to lingerie. This innovative fabric is 100% recycled and recyclable, with every kilogram of fabric produced from 27 1.5 litre PET mineral water bottles, and is manufactured using 60% less energy than traditional material.
And just as you need from your workwear, this fabric is soft, durable, breathable and supple. Plus it's easy to care for, as it can be washed in the machine at temperatures of up to 60 degrees, if needed.
Buttercups is delighted to offer three new styles in this innovative ECO fabric:
The B072 Eco Faux Wrap Tunic is a universally flattering yet practical uniform, featuring a back zip and front pockets. This style showcases one of 2Life fabric's greatest features – its wonderful ability to hold vibrant colour – and is therefore available in five standout colours – black, white, grey, raspberry and olive.
The B079 Eco V Neck Tunic with Zipped Pockets is a comfortable, durable and stylish uniform that combines a love of fashion with respect for the environment. Zip openings at the back and on the pockets offer a level of practicality unusual for a fashion-forward tunic. Choose from four colours – black, white, grey, lapis blue – and sizes 6-24.
Finish your work look with B100 Eco Slim Leg Trousers, a beautiful slimline style in our widest range of colours yet – black, white, grey, olive, lapis blue, and raspberry.
About Buttercups
As a world-leading manufacturer of uniforms for the beauty, health, pharmacy, medical, hospitality and corporate sectors for over three decades, Buttercups Uniforms has built up an enviable reputation for producing elegant, professional and stylish workwear that is a pleasure to wear. We work tirelessly to source the best fabric that is durable, comfortable and budget-friendly – and most importantly, is easy to wash and looks good as new for longer. Our new 2Life 100% recycled and recyclable fabric is no exception!
Browse our beautiful collection on https://www.buttercupsuniforms.com/ – and remember to sign up for our newsletter, which will keep you informed with new styles, sales and exclusive discounts.
Contact details
Irish Hotels Federation | Working Together