Events
Coeliac Society of Ireland | Gluten Free Road Show at the Tullamore Hotel
Expert talks from leading medical practitioners, dieticians, food producers and practical live cooking demonstrations
Coeliac Society of Ireland
IHF Associate Member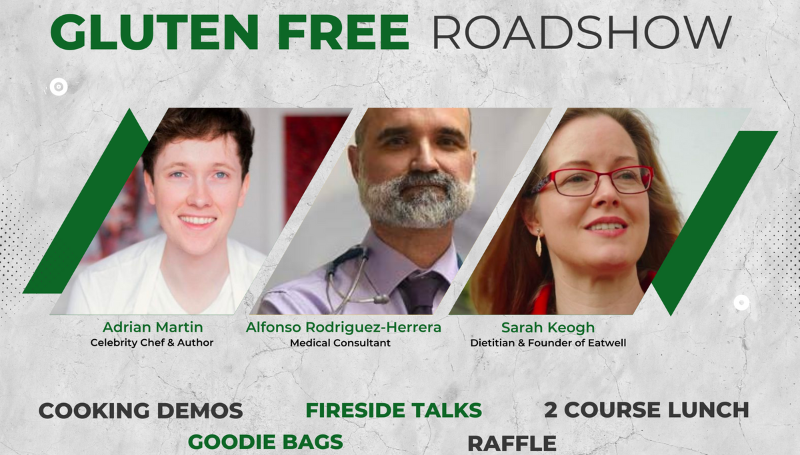 The Coeliac Society of Ireland have announced that their first ever Gluten Free Road Show will take place on October 8th at the Tullamore Hotel in County Offaly. This will be the first in-person event the Society has organised for members of the public in three years.
The roadshow will provide those living with - or preparing foods for those with - coeliac disease or severe gluten intolerances with an opportunity to meet and speak with the experts. The event will also include panel discussions on the topics of 'Eating out as a coeliac in Ireland' and 'Cost & nutritional value of gluten free foods today'.
Gill Brennan, chief executive of the Coeliac Society of Ireland, said: "We are excited to be back with a live and in-person event for the first time in three years. The Gluten Free Road Show offers a fantastic opportunity to talk to medical professionals, have the chance to hear and interact with a dietetic clinician, and to meet the many other experts who will be on hand to offer guidance.
"An added bonus will be our live cooking demonstrations from our in-house food safety and Technical food advisor as well as leading celebrity chef Adrian Martin who will share their culinary secrets in how to safely prepare tasty and nutritious meals that which will cater for their medically necessary dietary requirements."
"Thankfully, the days of not been able to interact and share experiences of being coeliac are over, and the Coeliac Society is once again striving to make Ireland the best country in the world to live gluten free. This show and others we will schedule over the next twelve months will help us to achieve this as we continue to support, empower, educate, and inspire those living a gluten free life."
The inaugural Gluten Free Road Show runs from 11am to 4.30pm on October 8th and will have a limited attendance. Tickets cost €60 and are available to book here.
Contact details

Jennifer Morrow01 872 1471info@coeliac.ieWeb www.coeliac.ie
Irish Hotels Federation | Working Together