Data Management
D-EDGE | Navigate the ocean of guest data
Place your guest at the heart of your ecosystem
D-EDGE
IHF Associate Member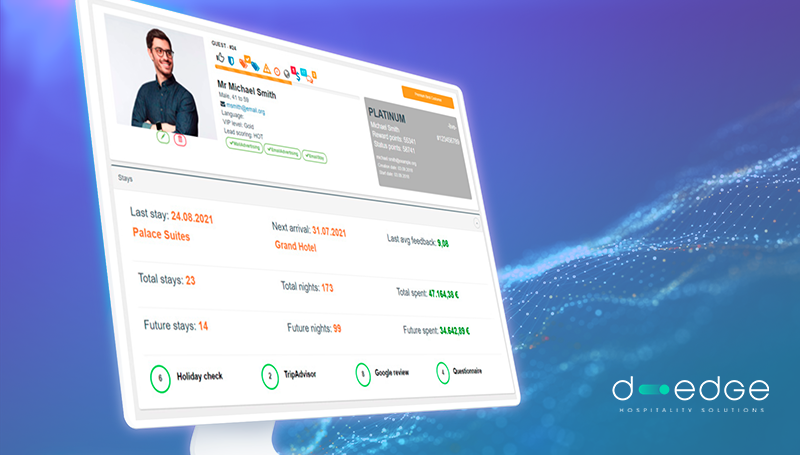 In just one minute, you accumulate a tremendous amount of raw data on your guests and prospects, whether it's via a visit on your website, a reservation on your booking engine or on another channel, or a check-out on your PMS.
But are you making the most out of it? Let's be more specific:
Is your guests' data centralised in a single place?
Is your data clean? Do you have duplicated or missing info?
Can you easily segment your database / set up customised offers?
Are you able to identify your loyal customers and treat them specially?
Do your teams have access to equal information about your guests?
Are you in line with GDPR or Data Privacy policy regulations?
If you checked all the above, you can stop reading.
Otherwise, you might need to hear this: You need a Central Data Management platform, not just your regular CRM.
Your Marketing department needs up-to-date, clean, segmented information on your guests to deploy targeted, efficient campaigns. But so do your Front Office, your Revenue Management, and your Housekeeping and F&B teams. They all need different info on your customers, to improve their efficiency and level of service. And you want that info to be accessible from one single place, editable, cleaned, and sorted.
That's why D-EDGE developed a Central Data Management system around a unique Central Guest Profile. Our solution gathers data from all sources: your PMS, your website, social media...
Thanks to AI (artificial intelligence) and our unique Data laundry algorithm, the data will be cleaned, deduplicated, centralised and accessible from a single Guest Profile at any time. Hoteliers can set up different views according to their staff needs. And they ensure their compliance with privacy regulations, such as GDPR.
For the 150 hotels using CDM D-EDGE, this means they no longer have to juggle their different platforms to find the information they need. They are no longer dependent on their PMS, or any other system. And they no longer fear crossing the GDPR line.
Everything is interconnected, centralised and simplified. And you are sure not to miss any information about your returning guests, or your potential guests.
If you too want to set up a real guest-centric strategy and start improving your marketing actions, as well as your on-site customer experience, discover D-EDGE solution and book a demo here.



Contact details

Jacqueline Reid0044 7984 064638jreid@d-edge.comWeb www.d-edge.com
Irish Hotels Federation | Working Together