Data Management
D-EDGE | What are the three most important steps in digital marketing?
Maximise your direct booking campaigns and optimise your online presence
D-EDGE
IHF Associate Member

1. If you only do one thing: protect your brand!
If you're not the one who promotes your hotel on the web, someone else will do it… and you don't want that to happen!
The hospitality industry counts many OTAs that can promote your rooms on their platform, but with a very high-level commission for you. To maximise your revenue you must increase your direct bookings and therefore attract people on your own website: starting with your existing customers or guests who have heard about your hotel. To be sure that when someone is looking for your hotel, they arrive on your website, we recommend at a minimum to buy your hotel name and create campaigns targeting areas where you are the most searched.
To get to know these places, go on Google Trends, write your hotel name and check the "Interest by region" part. As soon as your Google Ads campaigns are created, people will arrive on your hotel website to book a room.
Generating traffic is important but converting is essential!
Once you attract people to your website, make them convert: speed and fluidity of navigation are as important as the aesthetics of your website. So make sure that every page loads quickly, that a booking is made in less than 5 clicks and that all redirection links are secured. Most importantly ensure that you display your best available rates on your website. This is the #1 conversion rule!
2. Take advantage of Google free booking links
Google has definitely positioned itself as the key player in Digital Advertising in the hospitality industry and continues to grow and to innovate. Let us share with you some interesting data our Data Analysts have crunched:
+65% of hotel bookings generated by digital media (Search, Metasearch & display) have been done via Google advertising service. This share is growing year after year as the graph below illustrates.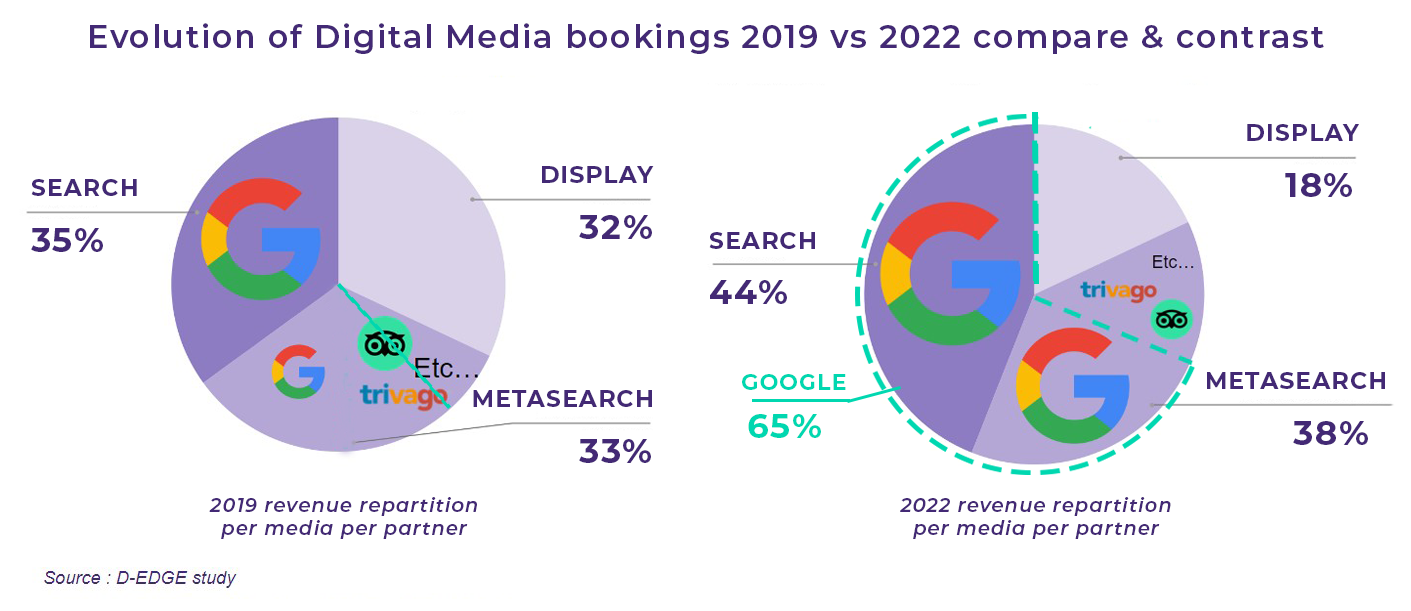 Now, did you know that, in 2022, out of those bookings, nearly 16% are due to clicks on Google free booking links i.e. at no cost for the hoteliers?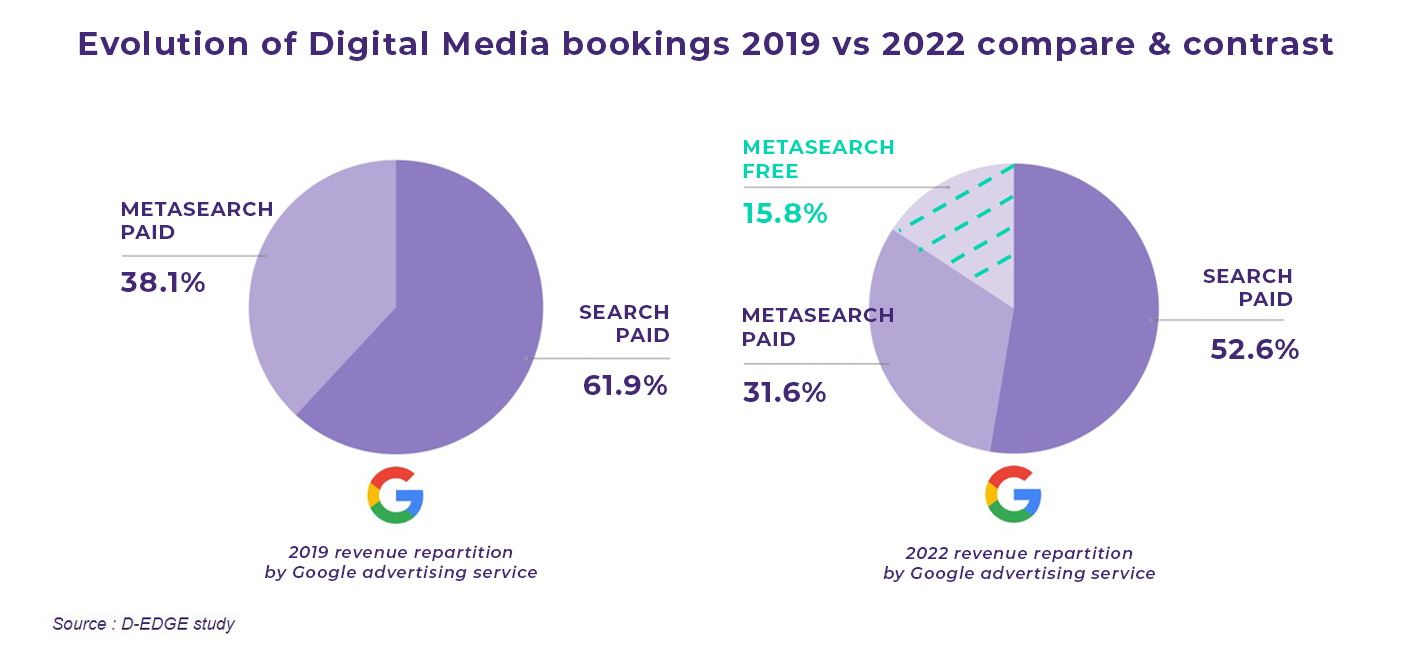 Google Free links are open to all hotels with a Google Hotel Ads account. Here again, our key recipe to success is to make sure that the rates of your official website are visible in the paid links and the free links section of Google Hotel Ads. This will bring more traffic to your site and therefore more direct bookings!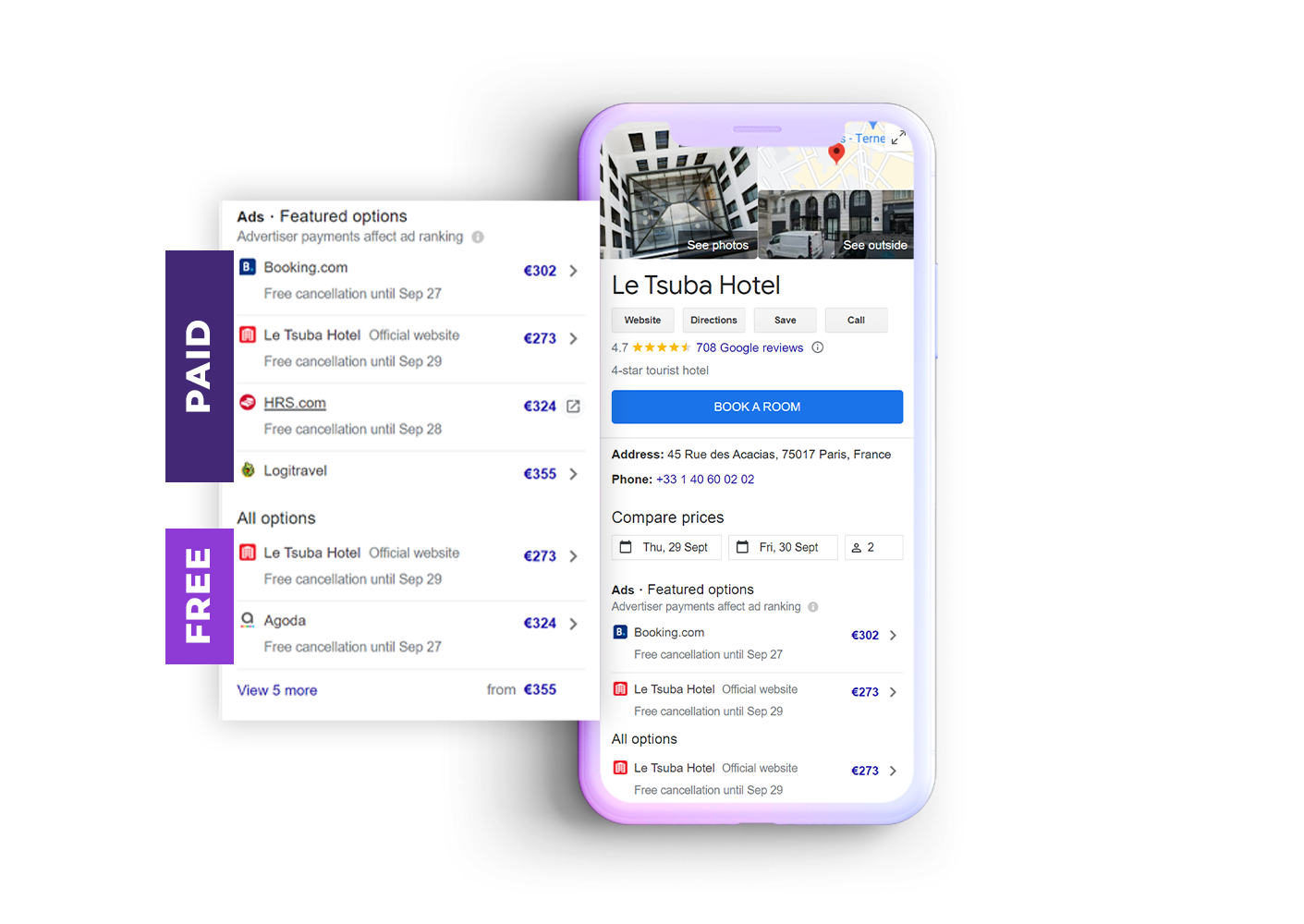 3. And if you have strong objectives in regards to your direct bookings: go the full Monty!
As shown on one of the figures above, bookings may be triggered by different media: in 2022, Search Marketing amounts for 44% of the hotel bookings generated by digital advertising, Metasearch Marketing: 38% of the bookings generated by digital advertising, and Display: 18%.
Our advice to maximise your direct booking campaigns is to optimise your online presence and advertise with a multi-media strategy. It does not mean you will spend more, just that you will split your budget into different media. There are now tech tools, such as MediaGenius, that allows you to automatise a maximum of tasks, control your spending and make trade-offs in the blink of an eye in order to reallocate your budget on the best performing media at any given time.
Have a look at how Kamana Lake House is now reaching 75% of direct bookings via the use of MediaGenius and D-EDGE technology.
Advertising is a complex strategy as there are a lot of media you should be seen on. You're not an octopus, get some help! D-EDGE developed MediaGenius, a single platform to manage all your digital media campaigns.
Digital marketing can seem overwhelming and difficult to understand. Therefore, being supported by a team saves you time and energy through constant support and up-to-date advice. Want to learn more? Get in touch with D-EDGE Digital Media teams!
Contact details

David Baker Account Manager 0044 203 885 7444 dbaker@d-edge.com Web www.d-edge.com
Irish Hotels Federation | Working Together