Branding
Creating forever guests… Net Affinity reveals a fresh new brand
Committed and relentless in our ambition to grow our clients' businesses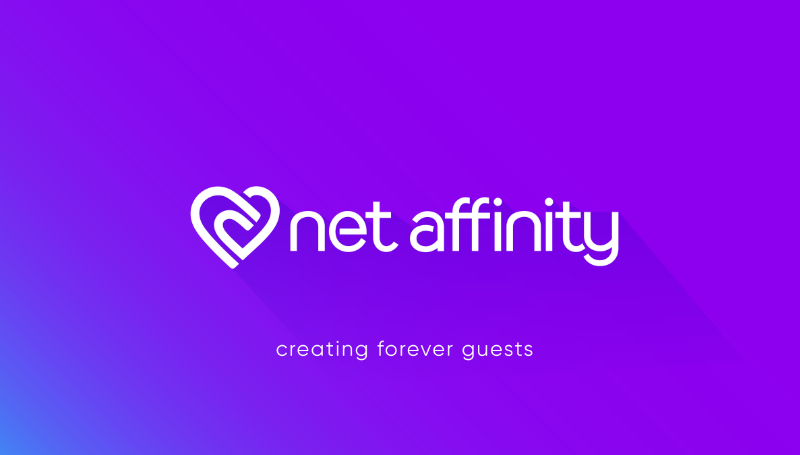 We are leading hotel technology platform, Net Affinity. Today, we have revealed a fresh new take on our established brand, which has been in the lives of hoteliers for over 20 years. Operating in this industry happily and successfully means constantly listening to your staff and clients about what it is they want, what it is they need. We know it's important to not only adapt to changing times, but to foresee what's coming next, and act thoughtfully and swiftly in advance of this.
Let us remind you who we are.
We are hoteliers. This identity has allowed us to sit right there beside our clients through their thick and thin, and really get it. We offer support that's backed by true empathy and innate understanding.
We love tech, too. Our booking engine is the newest technology on the market - feature-rich, lightning fast and made for mobile. But – regardless of how accelerated our technology is – it's the people behind it, the people driving it, that make it what it is.
We love forming genuine relationships – with staff, with clients, with partners. Genuine relationships are what have kept us thriving for over 20 years, and we know they'll be what keeps us thriving for another 20.
Above all, we tenaciously want to do everything in our power to drive direct business for hotels.
We have elevated our brand to reflect all of this properly. We wanted to create something that would allow our collective warmth, expertise and togetherness shine through.
"For over 20 years we've built a respected reputation as a technology provider to the hotel industry where we've grown genuine relationships as a trusted partner of our clients. This investment in our branding is a firm statement in the belief in the future of our business. We're committed and relentless in our ambition to grow our client's business…and will never give up. We will continue to deliver results through innovative tech and a genuine commitment to the success of our clients and our new branding encapsulates all of this perfectly." - William Cotter, Managing Director of Net Affinity.
Everything we do, has always been, and will always be, to simplify the lives of hoteliers. The online world might be dynamic and complex, but we thrive on it. We want to help hoteliers thrive on it, too. We believe our platform delivers all the results hoteliers need, so they can focus on doing what they do best.
"Over the last few months, our dedicated branding agency Neworld has worked tirelessly with us to get to the heart of who we are. The results have been even better than we could have hoped for. We listened carefully to our internal and external stakeholders throughout the process and drew inspiration from technology players outside of our industry to see how Net Affinity could differentiate itself. Our new visual identity encapsulates who we are; our name is encapsulated within the heart of our icon, and our new color palette adds energy and vibrancy to everything we do. Our new brand elevates Net Affinity, sets us apart from the competition, and positions us for an exciting future." - Hollie McHugh, Marketing Director at Net Affinity.
We have carefully considered every single element and trait of Net Affinity before presenting you with this fresh new take on who we are. Basically, it all comes down to this – we can't wait to continue delivering the best service and technology on the market so that hoteliers can focus on providing the ultimate guest experience, helping them become embedded in the hearts of their guests. Our purpose is to create forever guests.
Contact details

Sharon Power-Cowley01 293 9906sharon@netaffinity.comWeb www.netaffinity.com
Irish Hotels Federation | Working Together