IT
Vamoos - Discover How Irish Hotels Are Benefitting from Tech
Plus book a FREE trial of the app or a Vamoos consultation
IHF Associate Member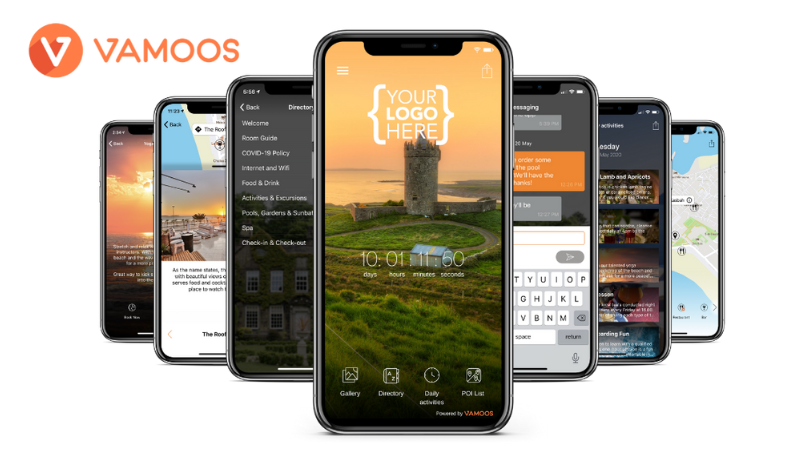 Sometimes it's great to not follow the crowd. But when it comes to using tech in your hotel to improve guest experience and make your life easier, it might be a different story. Join the many other Irish hotels using the Vamoos app. Here's why it works for them.
No Paper, More Info
Slieve Russell Hotel Golf & Country Club have used Vamoos to go paperless at their hotel, meaning much less admin but even more accessible information for their guests.
Laura Brown from the 222-room property told us: "We just direct everybody to the app. People download it, all the information's there. We now have no literature in our bedrooms. Everything is on Vamoos: guest directories, menus, booking facilities."
Help Guests And Staff
Putting everything guests need in the palm of their hands is obviously great for them. But Vamoos helps staff as well because it's so simple.
As Laura says: "If there's something that needs to be updated, I can just log in, update it, done and dusted". No need to contact IT or pay for updates. No need to painstakingly change every menu in the restaurant, or every directory in every room.
Decrease Your Footprint
And then there's the elimination of waste. Why provide guests with reams of paper they just don't need or want? Why provide a paper map when a digital one within Vamoos is much more interactive and useful?
For Laura and the Slieve Russell team, Vamoos has helped them be more environmentally friendly while improving the guest experience. No paper needs to be thrown out anymore - there isn't any.
Tech Helps Efficiency
Paul Finnegan, general manager of the Ashdown Park Hotel in County Wexford, says tech like Vamoos can help hotels use their resources much better.
''If guests know they can view all availability online and see the availability of our local attractions or availability in our Spa or FB outlets'' he said, "that makes an enormous difference to the flow around our hotel. It allows us to allocate resources more efficiently and by extension improves the overall experience of our guests. That's transformational."
Try Vamoos for yourself. Get a FREE trial HERE,BOOK a Vamoos consultation, or get in touch with our team below with any questions.
Contact details
Irish Hotels Federation | Working Together