Sustainability
Lawler Sustainability Webinar: 'Exploring Sustainability and Cost Saving Strategies'
IHF Members invited to register to attend 30-minute webinar Tuesday, 18th July at 11am GMT
Lawler Sustainability
IHF Associate Member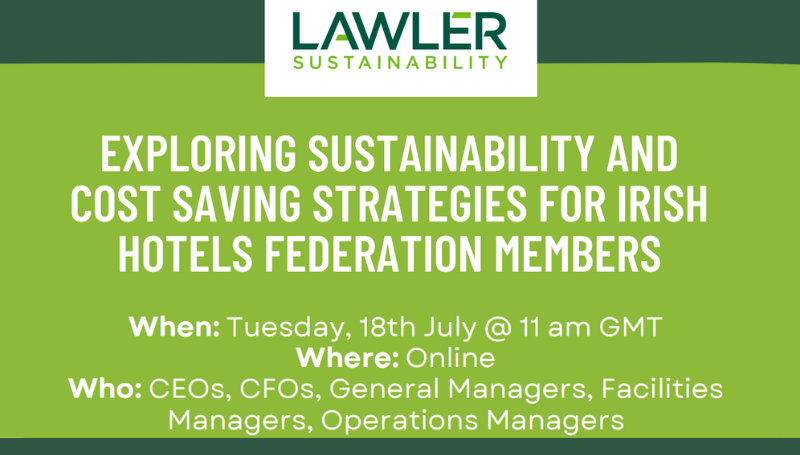 Lawler Sustainability are delighted to announce our upcoming webinar 'Exploring Sustainability and Cost Saving Strategies for IHF Members', taking place on Tuesday 18th July at 11am.
TOPICS COVERED DURING WEBINAR
1. INDEPENDENT SUSTAINABILITY ADVICE
Understand the importance of investing in sustainability but require expert guidance and a well-defined sustainability roadmap?
Lawler Sustainability, offers unparalleled, unbiased and holistic expertise in this area.
2. OPTIMISATION OF EXISTING ENERGY EQUIPMENT
Recently invested in energy equipment but haven't observed significant reductions in energy usage and CO2 emissions?
Lawler Sustainability can optimise your current energy assets - We focus on delivering measurable energy and CO2 reductions.
3. REVIEW & REPLACEMENT OPTIONS FOR EXISTING ENERGY ASSETS
Have you performed a comprehensive review and analysis of all energy assets?
Lawler Sustainability ensures the best solutions are implemented – Considering factors such as grant supports, optimal energy and CO2 efficiency to maximize benefits.
4. GRANT SUPPORT & GREEN ENERGY FINANCING
Unsure about the best options to pursue in securing grant supports or green energy financing solutions?
Lawler Sustainability work directly with our clients and the SEAI while managing the grant process and have access to a range of financing solutions.
Q&A
Following the presentation, we will have a Q&A session. We welcome any questions you may have in advance of our webinar, which we will then be able to answer live. Please submit questions to Donal: donalkearney@lawlersustainability.com.
Contact details

Nicola Ring056 772 1115 nicolaring@lawlersustainability.comWeb lawlersustainability.com
Irish Hotels Federation | Working Together