Hospitality Products
Time to Advance | Bunzl Rafferty Guest Amenities
The knowledge, experience and expertise to be your proactive partner.
Bunzl Rafferty Guest Amenities
IHF Associate Member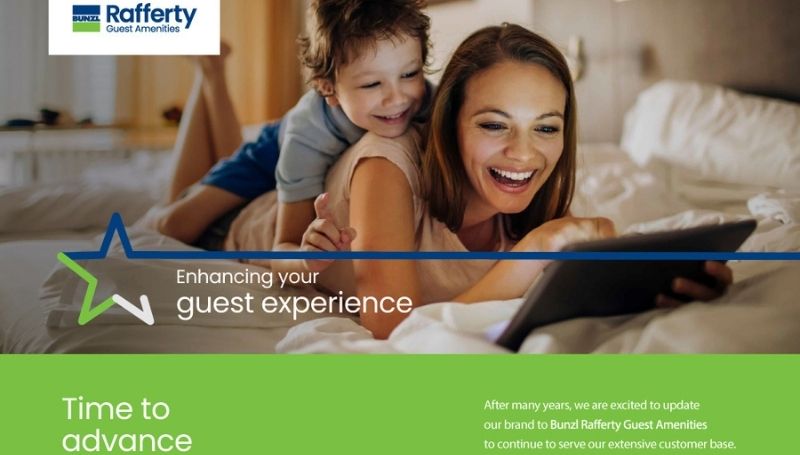 I
t's time to advance and after many years we are excited to update our brand. For many of you who have known and been with us throughout the years, we are delighted to let you know that we are rebranding to Bunzl Rafferty Guest Amenities.
This step will allow us to continue to strengthen our growth and commitments by helping our customers identify with our brand in the marketplace and allow us to continue to serve our extensive customer base.
Don't worry, the only thing that has changed is our name.
It's the little things that matter
We have the knowledge, experience and expertise to be your proactive partner in making your guest experience special. "Enhancing your Guest Experience" expresses our commitment to this.
Trusted Advisors
Across all categories of hotels and guesthouses, we have become trusted advisors for astutely tailoring the provision of quality to meet your guests' expectations at reasonable costs.
Leaders across Ireland
It is the calibre of our people and their specialist knowledge that has made us market leaders across Ireland with a significant market share.
It is our aim to bring our expertise to even more businesses in hospitality and accommodation to help them raise the bar and delight their guests.
Experienced Team
We have the quality products and a proven track record of service to engage with you in achieving your commercial goals. You will find us approachable, friendly and full of ideas that are borne out of the substantial experience and market intelligence we have in the sector.
Be sure to contact us for more information, Tel: 048 3025 2205
What our clients say about us
"When you have 800 years of hospitality invested in your brand, you don't entrust things to other companies lightly. Our reputation is crucial to us and we are ultra-selective. Bunzl Rafferty has proven over many years that they understand who we are, what we need and how to make our guests feel special. They have an excellent range of quality products and their people are reliable and knowledgeable. Put simply you cannot beat experience."
Niall Rochford. General Manager at Ashford Castle Inc., The Red Carnation Hotel Collection
"As the largest Hotel Group in Ireland with a rapidly growing presence in the UK, we have worked with Bunzl Rafferty for many years. Their combination of great products and the ability of their people to guide and support us in the development of the finer details of our guest experience is why we choose to partner with them across our business."
Tony McGuigan, Head of Procurement and F&B Projects at Dalata Hotel Group PLC
Contact details

Brendan Fleming048 3025 2205Brendan.fleming@bunzl.ieWeb www.bunzlrafferty.com
Irish Hotels Federation | Working Together