Marketing
Email Marketing: Capture and Retain the Staycation market
Staycations are trending! Short & long-term opportunities to generate revenue and drive loyalty with those guests.
Allan Nelson, For-Sight
IHF Associate Member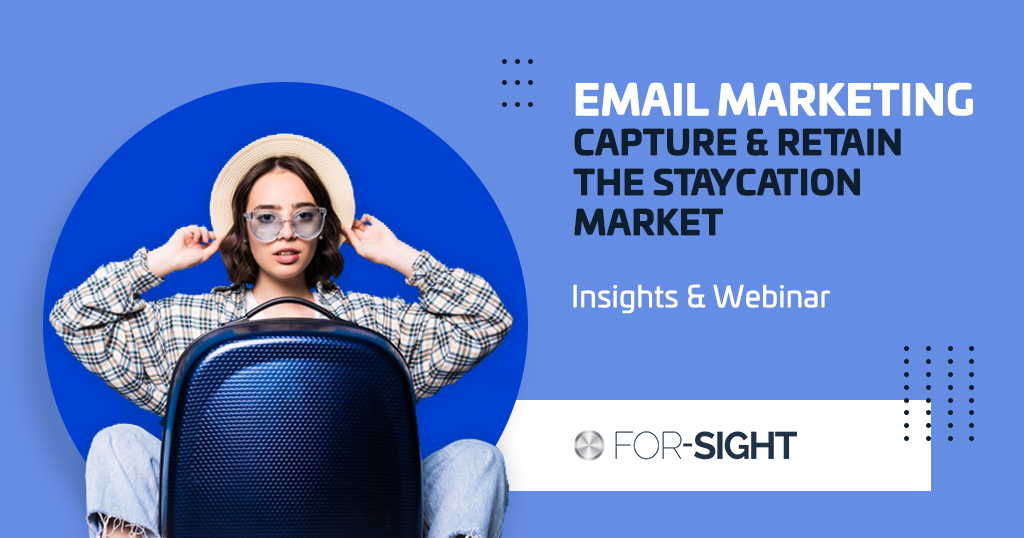 Staycations are trending! There is no doubt that the COVID– 19 pandemic has influenced consumers' behaviour. 2021 guest decisions on travel destinations are no exception. Today, the UK holiday market benefits from cautious and price-sensitive consumers planning to stay closer to home.
For-Sight CEO & Co-founder, Allan Nelson shares his view about the staycation market opportunities "With reopening of the industry it is the time to engage with your guests in a meaningful and personalised way. With a staycation market there exists a real opportunity for hospitality businesses to not only welcome these guests now, but to build loyalty and create opportunity for the future".
This staycation market represents both, a short and long-term opportunity to generate revenue and drive loyalty with those guests. Focusing on this opportunity, how can email marketing help you engage with your staycationers, today and into the future?
The staycation market stats – an optimistic overview
Domestic tourism is key in the recovery of the hospitality industry in Ireland and the UK. Trip intention in Ireland shows 55% of consumers intend to take a short break in Ireland in the next 12 months (Fáilte Ireland survey, data from March 2021).
While the 'travel abroad' search term dropped down by more than half, the searches for 'UK travel' have increased by 103%. Staycations represent an opportunity of 13.68 million trips within the UK for hospitality businesses (Parkdean Resorts, 2020). This summer, holidaymakers are set to spend approximately £7.1 billion in staycationing, which represents an exceptional 22% increase from 2019's £5.8 billion (Mintel, 2021). In fact, when we compare 2021 forecast to the pre-coronavirus 2019 period (£14.5 billion), there is an 11% drop – but keep in mind that the domestic tourism industry in the UK has been restricted since the start of the year. By 2022, the domestic market is expected to fully recover with an estimated £15 billion.
Why email marketing?
As Hospitality businesses prepare to re–open, now more than ever, it is crucial to connect with your guests and use guest communication to: reassure your guest, enhance the trust for your brand, and fulfil the promise: to delight throughout the entire guest journey.
Email marketing can help you communicate with your guest, but that's not all:
Engage - Build an authentic and human connection with your guest.
Generate revenue- Use a recognised and successful tactic to increase your revenue – email marketing has an excellent ROI, research by HubSpot reported that for every $1 spent on email marketing, you could expect to generate $38 of revenue on average
Enhance direct booking- Driving traffic on your website to reduce reliance on OTAs.
Upsell- Help the decision making and promote your activities, amenities, events etc.
Step-by-step action plan - How to engage with your Staycationers using email marketing? For-Sight's article "Staycation 2021: Email Marketing Best Practice Advice" explores how to maximise your email marketing efforts and build relationships with your staycation guests.
About For-Sight: Link to our IHF profile page HERE

Follow For-Sight on social media:
Irish Hotels Federation | Working Together