Booking Engine & Channel Manager
Bookassist shares Irish Hotel Industry data for Q2 2023
Direct booking trends, room nights, revenue, digital media spend and more
Jacopo Rita - Head of Client Strategy, Bookassist (Automatic Netware)
IHF Associate Member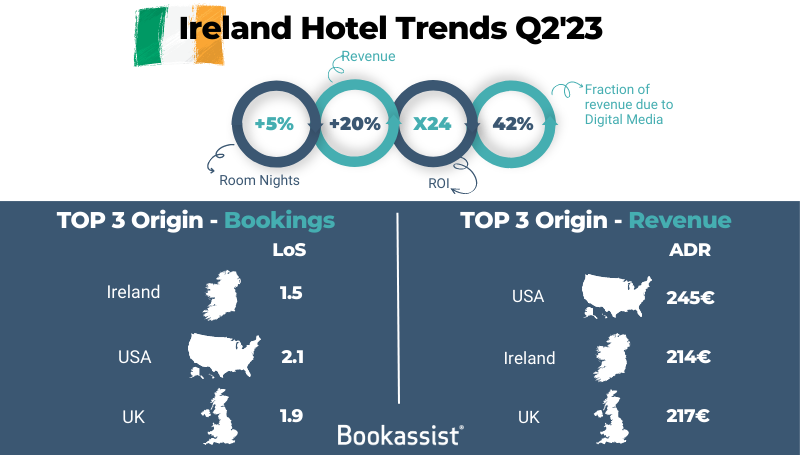 Ireland Hotels continue to benefit from strong performance in terms of direct booking trends also in Q2 2023: Room-Nights grow +5% compared to the previous year and Room Revenue grow +20% thanks to the steady increase of ADR overall.
Domestic travellers sustained most of the growth, with US and UK reportedly number #2 and #3 as feeder markets.
Paid Advertising on Digital Media channels (Search, Meta, Social, Display, Video, etc...) continue to be a very effective commercial strategy for hotels focusing on direct bookings.
KPIs for Digital Media in the quarter show:
ROI is strong with a x24 Return on Investment on average
Contribution of Paid Advertising on Digital Media has grown up to >40% of total direct bookings for hotels
This data was sourced from Bookassist Hotels Clients and the period of analysis was April to June 2023.
Bookassist partners with Hotels and provides them with a frictionless direct booking experience for their hotel guests through Bookassist World Class Direct Booking Solutions.
If you're not currently working with Bookassist, but would like to hear more about the value we could drive for your business, simply contact us and a member of the team will be in touch soon!
Contact details

Sandra Russell Senior Sales Executive Ireland 086 331 8184sandra.russell@bookassist.comWeb www.bookassist.com
Irish Hotels Federation | Working Together