Marketing
For-Sight - Webinar 'Bullet Proof your Hotel's Growth'
The event will be held on the 16th March and will be led by For-Sight's Head of Product & Technology Al Robertson
For-Sight
IHF Associate Member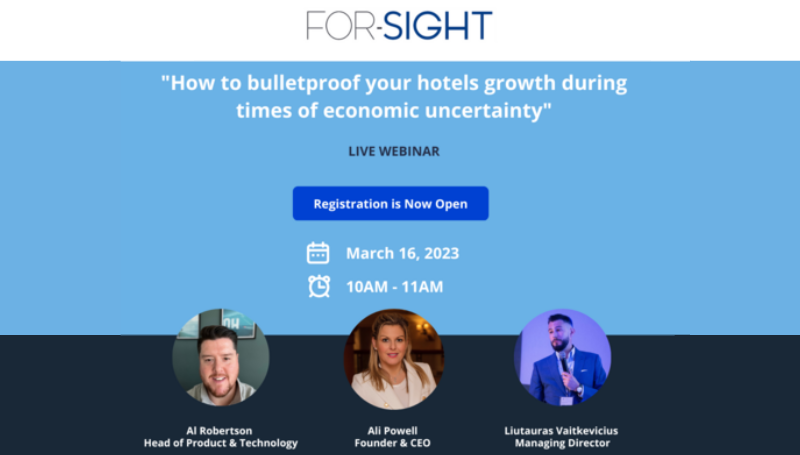 We're excited to let you know about For-Sight's upcoming webinar, How to bulletproof your Hotels growth during times of economic uncertainty taking place 10am on 16th March 2023.
As the hospitality industry continues to navigate the challenges of economic uncertainty, it's more important than ever to find ways to bulletproof your hotel's growth.
You'll receive actionable tips that you can apply straight away on how banking on guest loyalty can help you achieve just that.
It's free to attend and filling up fast!
During this webinar, you'll learn:
The importance of understanding your guests' needs, preferences and behaviours. Tips on how to gather this information and use it to personalise their experience, such as through targeted marketing campaigns, customised room amenities, and personalised upsells and services
The importance of timely and effective communication with guests. Tips on how to use email, SMS, and social media to reach guests before, during and after their stay
The importance of understanding guest data to analyse their behaviour and preferences and ways in which data analysis can improve loyalty and revenue
Also featuring:
A live case study with Liutauras Vaitkevicius, Managing Director from The Zetter Group
A live Q&A session with Ali Powell, Founder & CEO of Commercial Acceleration
The event will be held on the 16 March 2023 at 10 am and will be led by For-Sight's Head of Product & Technology Al Robertson.
Take full advantage of this opportunity to learn how you can bulletproof your hotel's growth during these uncertain times. Register below for the webinar today.
About For-Sight: Visit our IHF profile page HERE

Follow For-Sight on social media:
Irish Hotels Federation | Working Together