Marketing
For-Sight - Register Interest Now and Get Three Months Free!
Claim your complimentary 3-month subscription to For-Sight's CRM and Marketing Solutions
For-Sight
IHF Associate Member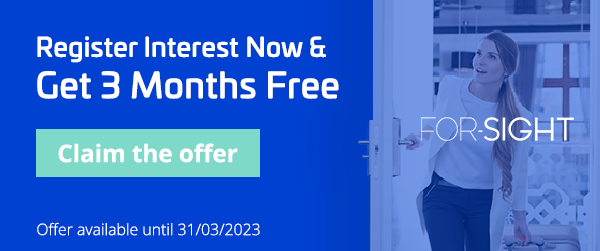 We hope you're doing well after the incredible IHF Showtel 2023! We wanted to say thank you to everyone who visited our stand and took advantage of our exclusive IHF offer.
Last Call to Claim your For-Sight Offer!
For those who haven't claimed the offer yet don't worry, there's still time! But don't wait too long, the clock is ticking! Our offer is available until 31 March 2023.
As a hotelier, you know how important it is to understand your guests and deliver an exceptional experience. That's why we're excited to offer you a complimentary 3-month subscription to For-Sight's CRM and Marketing Solutions.
Curious About What For-Sight Can Do for You?
For-Sight provides you with all the guest insights you need to make strategic decisions. Access information such as guests' preferences, behaviours, and desired level of contact with you. With this, For-Sight allows you to create personalised marketing campaigns that boost engagement, revenue, and brand loyalty. You can also automate guest communication journeys, ensuring your guests receive targeted, on-brand messages at the right time, every time.
Take advantage of this offer, and you'll also receive best-in-class onboarding as you start using our platform:
help with set up pre-stay, post-stay, and campaign email templates
training and support for your initial campaigns
Want to Redeem Your For-Sight Offer? Here's How
It's easy! Simply click the button below and fill out the registration form. Our team will reach out to you to answer any questions you may have and even schedule a demo if you'd like. There's no obligation to commit, so don't hesitate to register your interest and take advantage of this fantastic opportunity when you're ready to subscribe.

Register interest before 31st March 2023 and find the Offer Terms and Conditions at the bottom of the page.
About For-Sight: Visit our IHF profile page HERE

Follow For-Sight on social media:
Irish Hotels Federation | Working Together