Trends
IDeaS shares 6 Hotel Technology Predictions for 2024
Download our 'Future Forecast' report on the future of hospitality revenue management
IDeaS
IHF Associate Member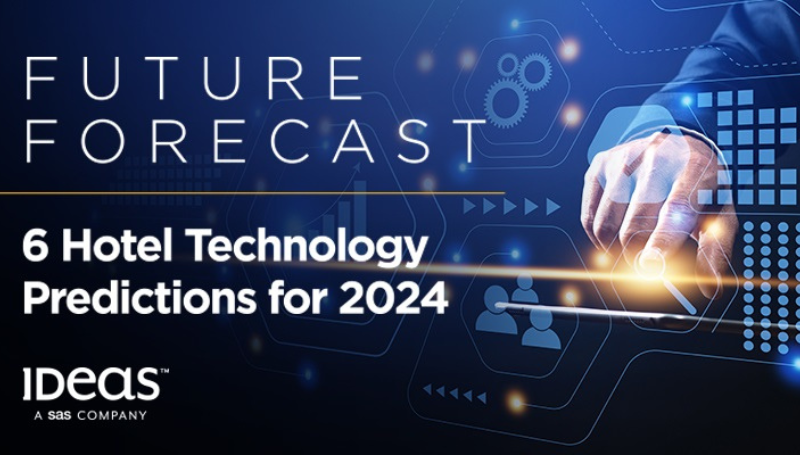 IDeaS, a SAS, company, the world's leading provider of hotel revenue management software and services, invites you to download its new report 'Future Forecast: Six Hotel Technology Predictions for 2024'. Gathering information from some of the top minds in the industry, IDeaS shares six bold hotel technology predictions that it believes will shape the year to come.
Key predictions include:
The continued breakdown of hospitality data silos: The hospitality industry collects an incredible amount of valuable guest data, but it's often coming from disparate sources with no clear view of the entire guest experience. IDeaS foresees this changing fast as hoteliers look to maximize the value and power of their data in 2024.
AI is set to redefine the guest experience: 2023 was the world's introduction to generative AI, with tools like ChatGPT and DALL-E capturing the public's imagination. IDeaS believes 2024 is when the hospitality industry will start putting the transformative power of AI to work, with far-ranging implications for what the future of the "typical" guest experience can be.
Meetings & Events Revenue Management Masters Will Have a Head Start on Total Revenue Optimization: Forward-thinking hoteliers understand that they need to look beyond rooms revenue to maximize the value of their property. With as much as 60 percent of hotel revenue originating from meetings and events (M&E) business, this business segment is the next hill to conquer on the path to a total revenue optimization future.
Mike Chuma, vice president of global marketing, IDeaS, said: "Our team engaged with some of the greatest minds in our industry in 2023 through informative webinars, a successful client summit, and our ongoing commitment to supporting innovation and industry events. It's clear to all of us that 2024 is shaping up to be a year of substantial and exciting change—and the best way for hoteliers to take advantage of that change is to start thinking now about what's likely to come in the year ahead."
Contact details

Gregory Gallagher Sales Executive EMEA +34 910 76 51 81 gregory.gallagher@ideas.comWeb ideas.com
Irish Hotels Federation | Working Together