Recruitment
Unleash Excellence with Sky Staffing Solutions!
Expertly matching the perfect candidates, from entry-level enthusiasts to top-tier managers and culinary artists
Sky Staffing
IHF Associate Member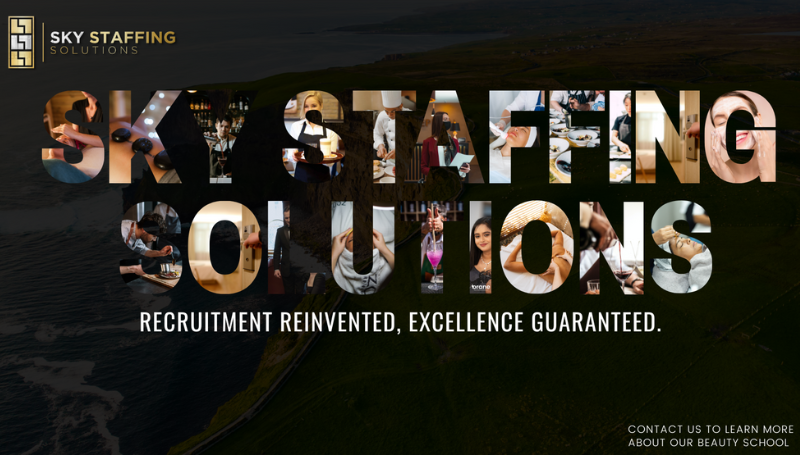 Are you ready to take your hospitality business to extraordinary heights? Look no further because Sky Staffing Solutions is here to revolutionise your staffing needs! We're not your average recruitment agency – we're your gateway to exceptional talent that will elevate your establishment beyond your wildest dreams.
Picture this: Expertly matching the perfect candidates to your dream team, from entry-level enthusiasts to top-tier managers and culinary artists who will ignite your kitchen with passion. The best part? No more work permit headaches – all our candidates are authorised to work in Ireland, making your hiring process smooth and hassle-free.
Our candidates aren't just employees; they embody experience, bringing a wealth of hotel industry know-how to ensure jaw-dropping performance. But that's not all! As passionate consultants, we dive deep into your needs, forging connections that are as precise as powerful. We don't just find employees; we create dynamic matches considering expertise, skills, and personalities.
Craving exceptional chefs or efficient kitchen assistants? We've got you covered. But wait, there's more! Sky Staffing Solutions is not just a staffing agency; we're trendsetters in a competitive market. Brace yourselves because we've recently unveiled an exclusive Hair, Skin, and Make-Up school overseas – a game-changer! Get ready for a wave of certified SPA therapists to sweep the nation. Your establishment will shine with top-tier professionals trained to deliver service like no other.
But here's the cherry on top – we've decided to offer our Spa Therapist graduates for free to the first 10 clients who sign up with us for spa therapists in the next year. Moreover, our spa therapist graduates do not require work visas; they will hold EU passports.
Choose Sky Staffing Solutions for a recruitment experience that's out of this world. Let us shatter your expectations and bring unparalleled excellence to your team. Together, we'll redefine greatness!
Contact details

Clint Estibeiro Director 01 255 5555 / 089 223 4929 info@skystaffingsolutions.comWeb www.skystaffingsolutions.com
Irish Hotels Federation | Working Together